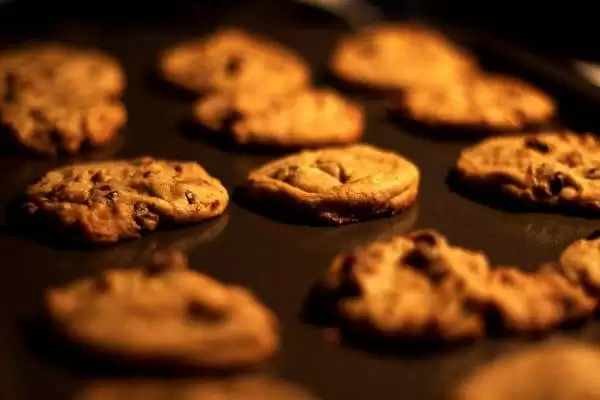 Caption: Image: CC BY-ND 2.0--mocktech
Celiac.com 07/10/2020 - Gluten-free cookies are easy to prepare and the payoff is huge!  But sometimes, baking disasters occur. Expressions such as: that's the way the cookie crumbles, one tough cookie or cookie monster can, at times, have double meanings for the gluten-free baker. 
Questions such as:  Why does a cookie batch turn out one time and the next time fail?  Why do my cookies spread so much?  My cookies are dry and hard, what am I doing wrong? What happened?   It's time to put on the oven mitts and baker's hat and find some cookie cures. 
---
Celiac.com Sponsor (A12):


---
---
Celiac.com Sponsor (A12-m):


---
First of all, subtle changes in a cookie recipe can bring varied results.  Inferior ingredients (or different brands), inaccurate measurements, differences in baking equipment, variations between ovens (inaccurate temperature), oven rack position, baking times and even weather conditions can have an effect on the outcome of gluten-free cookies.

To fine-tune your cookie-baking skills and minimize cookie disasters, here are a few suggestions. 
What to Do If:

1) Cookies Spread Too Much
Start with butter at "room temperature" not squishy but malleable (still feeling firm). To determine if butter is at "room temperature", insert an instant read thermometer in the center of the stick of butter.  It should read 65 to 68 degrees F.
Use a combination of vegetable shortening and butter.  Cookies made with butter have an outstanding taste, but those made with shortening hold their shape better.  You can control spread by using a combination of butter and shortening.  Diet margarine or whipped spreads are not suitable for baking.  These products contain too much water.
Reduce the amount of sugar in the dough.  Measure accurately: use the "spoon in and level off" method.
Use a higher-protein flour mix.  The greater the protein value in the flour mix, the more liquid it will absorb. Examples of protein flours include brown rice, sorghum, bean, almond meal and others.  Use suggested flour mix given in the recipe since the recipe was developed and tested with that particular flour mixture.
Use less liquid in the dough. Use the correct size egg given in the recipe and measure accurately with proper measuring cup.  For liquids, use a measuring cup that has a spout.
Always drop dough portions on a cool cookie sheet. Use 2-3 identical cookie sheets, while one is baking, another is cooling and the third one is ready to be placed in the oven.  For a quick cool-down, place cookie sheet in refrigerator for a few minutes.
Bake at correct oven temperature.  A too-low temperature may lead to spreading. Preheat oven at least 15 minutes and check oven accuracy by using free-standing oven thermometer. 
Over-greased cookie sheets. Consider lining cookie sheets with parchment paper.  It reduces spread, promotes even baking and reduces cleanup.
2) Cookies Are Dry and Hard
Used too much flour/gluten-free oats.   Measure accurately.  Stir flour in container to aerate; use spoon to fill dry measuring cup and level off with knife.
Hard and stale brown sugar.  Use fresh, soft, moist brown sugar.
Hard and very dry dried fruit.  Soak dried fruit in water (or other liquid) to absorb some moisture so it won't take it from the dough.  Drain fruit, pat dry and then stir into dough.
Overmixed dough.  Stop mixing when dough is just incorporated.
Too-hot oven temperature. Keep free-standing oven thermometer in oven to check oven accuracy.
Overbaked cookies. Check cookies at the minimal baking time.  Bake one "test" cookie to make adjustments for your oven.  Cookies continue to bake on the cookie sheet once they are removed from the oven.  Oven may be hotter than the temperature the dial reads.  Purchase an oven thermometer and keep in oven to ensure accurate temperature.
 
Improperly stored cookies.  GF cookies are best when eaten within 2 days or placed in the freezer in airtight containers for extended storage. 
Cookies Crumble. Forgot to add xanthan gum to dough.  Xanthan gum acts as a binder with other ingredients in gluten-free baking.  It is a necessary ingredient in most gluten-free baking.
 
Used diet margarine or whipped spreads as the fat. Diet margarines and whipped spreads are full of air and water which makes them unacceptable for baking.  Use stick butter (unsalted preferred), shortening or oil.  Measure accurately.
3) Cookies Break When Removed From Cookie Sheet
Cookies still too warm. Let cookies cool on cookie sheet for specified time given in recipe before transferring them to wire racks to cool completely.  For delicate cookies, bake them on parchment paper-lined cookie sheet.  When baked, slide the parchment paper off cookie sheet to a wire rack to cool. 
For the best results
Watch your cookies very carefully until you know how a particular recipe bakes in your oven and on your cookie sheets. Be consistent: use the same "brand" ingredients and stick with them, measure the same way, preheat oven for at least 15 minutes and check oven accuracy by keeping thermometer in oven.   Bake one or two "test" cookies first so adjustments can be made without ruining the whole batch.  Keep cookie dough refrigerated until ready to bake especially if kitchen is hot, humid or dough is soft. Always place dough on cool cookie sheets.
If All Else Fails
Use cookie disasters for future crumb crusts.  Freeze the cookies then put them in a food processor and make cookie crumbs.  Store the crumbs in the freezer and use them when you make desserts with crumb crusts.    Your cookie disasters may end up as wonderful crust creations! 
Happy Baking!
Triple Chocolate Bliss
This recipe is from the cookbook, Gluten-Free Cookies (What No Wheat Enterprises, 2008) by Jeanne Basye, The Gluten-Free Cookie Lady.
Ingredients:
2 tablespoons gluten-free flour mix
1/8 teaspoon xanthan gum
1/8 teaspoon baking powder
1/8 teaspoon salt
4 (1 oz.) squares semisweet chocolate, coarsely chopped
2 tablespoons unsalted butter
½ cup granulated sugar
½ teaspoon pure vanilla extract
1 large egg
½ cup coarsely chopped macadamia nuts
¼ cup each semisweet chocolate chips, milk chocolate chips and white chocolate chips
Directions:
1.  Preheat oven to 350 degrees F.  Line cookie sheets with parchment paper.
2.  Sift flour, xanthan gum, baking powder and salt in bowl; add nuts and flavored chips;
     stir.  Set aside.
3.  Put chocolate squares and butter in large microwave-safe bowl.  Microwave, uncovered,        on High (100 percent power) in 30 second intervals until melted.  Stir after each interval.  Cool 5 minutes.  Stir in sugar, vanilla and egg.  Gradually stir in flour mixture.
4.  Measure dough in 1 ½ tablespoon portions; drop 3 inches apart on prepared cookie sheet.
5.  Bake 11 to 12 minutes or until tops are glossy and centers are soft.  Cool 4 minutes on cookie sheet then transfer to wire rack to cool completely.
6.  Store in airtight container up to 2 days or freeze up to one month.
Makes 15 (2 ½-inch) cookies