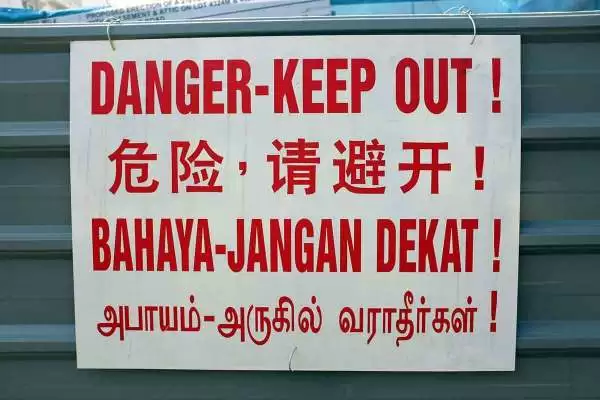 Caption: Danger - Keep Out! Image: CC BY 2.0--Jnzl's Photos
Celiac.com 01/12/2021 - We get a lot of questions about which breakfast cereals are gluten-free, and we recently made up a list of Cheerios and nearly one hundred gluten-free breakfast cereals. 
Still, the questions keep coming, especially about some of the most popular cereals that are not gluten-free. The number of popular breakfast cereals that are not gluten-free is too long to count, but here are more than a hundred popular breakfast cereals that lots of folks wonder about, and wish were gluten-free. These cereals are not gluten-free, however, so be sure to avoid them if you have celiac disease.
---
Celiac.com Sponsor (A12):


---
---
Celiac.com Sponsor (A12-m):


---
As always, check labels and choose carefully.
Unsafe NON-Gluten-Free Breakfast Cereals Include:
General Mills' Wheat Chex
Kellogg's Corn Pops - Despite the fact that Corn Pops are made from milled corn, the ingredients include wheat starch
Kellogg's Corn Flakes
Kellogg's Frosted Mini Wheats
Kellogg's Froot Loops
Kellogg's Honey Smacks
Quaker Oats' Cap'n Crunch
NON-Gluten-Free General Mills cereals include:
Basic 4
Boo-Berry
Cascadian Farm
Cinnamon Toast Crunch
Cocoa Puffs
Cookie Crisp
Count Chocula
Fiber One
Franken-Berry
French Toast Crunch
Gold Flakes
Golden Grahams
Honey Nut Clusters
Kix
Morning Summit
Monsters
Oatmeal Crisp
Peanut Butter Toast Crunch
Raisin Nut Bran
Reese's Puffs
Total
Wheat Chex
Wheaties
NON-Gluten-Free Kellogg's cereals include:
All-Bran: All-Bran Original, All-Bran Bran Buds, All-Bran Bran Flakes (UK), All-Bran Extra Fiber, All-Bran Guardian (Canada)
Apple Jacks
Apple Jacks Apple vs Cinnamon Limited Edition
Apple Jacks 72 Flavor Blast (Germany)
Bran Buds (New Zealand)
Bran Flakes
Chocos (India, Europe)
Chocolate Corn Flakes
Cinnabon
Cinnamon Mini Buns
Coco Pops Coco Rocks
Coco Pops Special Edition Challenger Spaceship
Coco Pops Crunchers
Coco Pops Mega Munchers
Coco Pops Moons and Stars
Cocoa Krispies or Coco Pops (also called Choco Pops in France, Choco Krispies in Portugal, Spain, Germany, Austria, and Switzerland, Choco Krispis in Latin America)
Cocoa Flakes
Corn Flakes
Complete Wheat Bran Flakes/Bran Flakes
Corn Pops
Country Store
Cracklin' Oat Bran
Crispix
Crunch: Caramel Nut Crunch, Cran-Vanilla Crunch, Toasted Honey Crunch
Crunchy Nut (formerly Crunchy Nut Cornflakes)
Crunch Nut Bran
Cruncheroos
Disney cereals: Disney Hunny B's Honey-Graham, Disney Mickey's Magix, Disney Mud & Bugs, Pirates of the Caribbean, Disney Princess
Donut Shop
Eggo
Extra (Muesli): Fruit and Nut, Fruit Magic, Nut Delight
Froot Loops: Froot Loops, Froot Loops 1⁄3 Less Sugar, Marshmallow Froot Loops, Froot Bloopers,
Frosted Flakes (Frosties outside of the US/Canada): Kellogg's Frosted Flakes, Kellogg's Frosted Flakes, Kellogg's Banana Frosted Flakes, Kellogg's Birthday Confetti Frosted Flakes, Kellogg's Cocoa Frosted Flakes, Less Sugar, Tony's Cinnamon Krunchers, Honey Nut
Fruit Harvest: Fruit Harvest Apple Cinnamon, Fruit Harvest Peach Strawberry, Fruit Harvest Strawberry Blueberry
Fruit 'n Fibre (not related to the Post cereal of the same name sold in the US)
Fruit Winders (UK)
Genmai Flakes (Japan)
Guardian (Australia, NZ, Canada)
Happy Inside: Bold Blueberry, Simply Strawberry, Coconut Crunch
Honey Loops (formerly Honey Nut Loops)
Honey Nut Corn Flakes
Jif Peanut Butter Cereal (US only)
Just Right: Just Right Original, Just Right Fruit & Nut, Just Right Just Grains, Just Right Tropical, Just Right Berry & Apple, Just Right Crunchy Blends – Cranberry, Almond & Sultana (Australia/NZ), Just Right Crunchy Blends – Apple, Date & Sultana (Australia/NZ)
Khampa Tsampa- Roasted Barley (Tibet)
Kombos
Krave
Komplete (Australia)
Low-Fat Granola: Low-Fat Granola, Low-Fat Granola with Raisins
Mini Max
Mini Swirlz
Mini-Wheats: Mini-Wheats Frosted Original, Mini-Wheats Frosted Bite Size, Mini-Wheats Frosted Maple & Brown Sugar, Mini-Wheats Raisin, Mini-Wheats Strawberry, Mini-Wheats Vanilla Creme, Mini-Wheats Strawberry Delight, Mini-Wheats Blackcurrant
Mueslix: Mueslix with Raisins, Dates & Almonds
Nutri-Grain
Nut Feast
Oat Bran: Cracklin' Oat Bran
Optivita
Pop-Tarts Bites: Frosted Strawberry, Frosted Brown Sugar Cinnamon
Raisin Bran/Sultana Bran: Raisin Bran, Raisin Bran Crunch, Sultana Bran (Australia/NZ), Sultana Bran Crunch (Australia/NZ)
Raisin Wheats
Rice Krispies/Rice Bubbles: Rice Krispies, Frosted Rice Krispies (Ricicles in the UK), Rice Bubbles, LCMs, Rice Krispies Cocoa (Canada only), Rice Crispies Multi-Grain Shapes, Rice Krispies Treats Cereal
Rocky Mountain Chocolate Factory Chocolatey Almond cereal
Scooby-Doo cereal: Cinnamon Marshmallow Scooby-Doo! Cereal
Smart Start: Smart Start, Smart Start Soy Protein Cereal
Smorz
Special K: Special K, Special K low carb lifestyle, Special K Red Berries, Special K Vanilla Almond, Special K Honey & Almond (Australia), Special K Forest Berries (Australia), Special K Purple Berries (UK), Special K Light Muesli Mixed Berries & Apple (Australia/NZ), Special K Light Muesli Peach & Mango flavour (Australia/NZ), Special K Dark Chocolate (Belgium), Special K Milk Chocolate (Belgium), Special K Sustain (UK)
Spider-Man cereal: Spider-Man Spidey-Berry
SpongeBob SquarePants cereal
Strawberry Pops (South Africa)
Super Mario Cereal
Sustain: Sustain, Sustain Selection
Tresor (Europe)
Variety
Vector (Canada only)
Yeast bites with honey
Kringelz (formerly known as ZimZ!): mini cinnamon-flavored spirals. 
NON-Gluten-Free Post cereals include:
100% Bran – currently only available in Canada
Alpha-Bits
Bran Flakes
Chips Ahoy!
Cinnamon Pebbles
Fruity Pebbles Xtreme
Golden Crisp
Golden Oreo O's
Good MOREnings Waffle Crunch
Grape-Nuts
Grape-Nuts Fit
Grape-Nuts Flakes
Great Grains Banana Nut Crunch
Great Grains Blueberry Morning
Great Grains Cranberry Almond Crunch
Great Grains Crunchy Pecans
Great Grains Digestive Blends – Berry Medley
Great Grains Digestive Blends – Vanilla
Great Grains Protein Blend – Cinnamon Hazelnut
Great Grains Protein Blend – Honey, Oats & Seeds
Great Grains Raisins, Dates & Pecans
Honey Bunches of Oats – Honey Roasted
Honey Bunches of Oats – Raisin Medley
Honey Bunches of Oats – with Almonds
Honey Bunches of Oats – with Cinnamon Bunches
Honey Bunches of Oats – with Real Strawberries
Honey Bunches of Oats – with Vanilla Bunches
Honey Bunches of Oats – with Pecan Bunches
Honey Bunches of Oats – Fruit Blends – Banana Blueberry
Honey Bunches of Oats – Fruit Blends – Peach Raspberry
Honey Bunches of Oats – Greek – Honey Crunch
Honey Bunches of Oats – Greek – Mixed Berry
Honey Bunches of Oats – Tropical Blends – Mango Coconut
Honey Bunches of Oats – Granola – Honey Roasted
Honey Bunches of Oats – Granola – Raspberry
Honey Bunches of Oats – Granola – Cinnamon
Honey Bunches of Oats – Granola – Protein Chocolate
Honey Bunches of Oats – Morning Energy – Chocolatey Almond Crunch
Honey Bunches of Oats – Morning Energy – Cinnamon Crunch
Honey Maid S'mores
Honeycomb
Oh's
Oreo O's
Raisin Bran
Sesame Street Cereal – Apple
Sesame Street Cereal - Blueberry
Sesame Street Cereal - Strawberry
Shredded Wheat (made by Nestlé and General Mills in the United Kingdom and Ireland)
Shredded Wheat – Original Spoon Size
Shredded Wheat – Honey Nut Spoon Size
Shredded Wheat – Wheat'N Bran Spoon Size
Shredded Wheat – Lightly Frosted Spoon Size
Shredded Wheat – Frosted Cinnamon Roll
Shredded Wheat – Frosted Mixed berry
Shredded Wheat – Frosted S'mores Bites
Shreddies – currently only available in Canada, the United Kingdom, Ireland, and Germany (made by Nestlé and General Mills in the United Kingdom and Ireland)
Sour Patch Kids cereal
NON-Gluten-Free Quaker cereals include:
Cap'n Crunch
Life cereal
Quisp
Mother's Natural Foods
Quaker 100% Natural Granola
Kretschmer Wheat Germ
Mr. T Cereal
Muffets ("The round shredded wheat")
Quaker Oatmeal Squares
Quaker Simply Granola[47]
Quaker Toasted Oatmeal
Quaker Oh's
Quaker Corn Bran
Quaker Oat Bran
Quaker Grits
Quaker Oatmeal
Quaker Instant Oatmeal
Quaker Puffed Rice
Quaker Puffed Wheat
Quaker Oatmeal with Dinosaur Eggs
Graham Bumpers
Coco Bumpers
King Vitaman