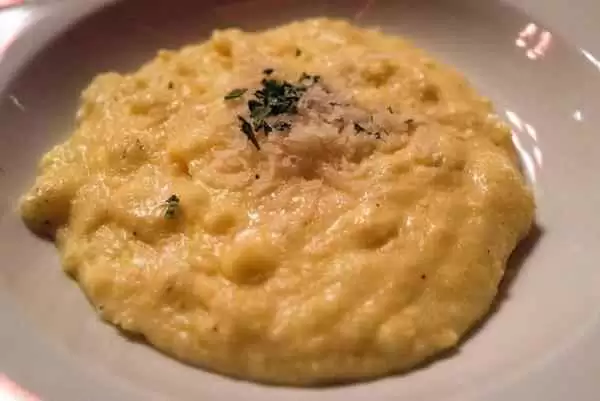 Caption: Image: CC--Edsel Little
Celiac.com 03/27/2018 - If you've never made polenta before, or if you're not very experienced with it, it can seem a bit foreign and even intimidating. Fear not, polenta is easy, easy, easy. Remember, polenta is just coarsely ground cornmeal. If you can make grits, or oatmeal, or cream of rice cereal, then you can make polenta. Make this quick and easy polenta for lunch or dinner, and you're sure to have some happy eaters.
Ingredients:
1 cup dried polenta
2 cups chicken broth
1½ cups half-and-half
2-ounces grated Parmesan or Romano cheese
2 tablespoons unsalted butter
12 ounces of mixed cherry and grape tomatoes
10 large basil leaves
Extra-virgin olive oil
Salt to taste
Freshly ground black pepper
Crushed red pepper flakes
---
Celiac.com Sponsor (A12):


---
---
Celiac.com Sponsor (A12-m):


---
Directions:
Position an oven rack 4 to 6 inches from a hot broiler

Line a rimmed quarter-baking sheet with aluminum foil, then place the tomatoes on it and drizzle them with oil. Season lightly with salt and pepper. 

Broil for 6 minutes, until some of them are charred and have burst. Use the large-holed side of a box grater or a Microplane grater to grate the cheese.

Meanwhile, combine the broth and half-and-half in a medium saucepan over medium-high heat. 

Bring to a light boil, then gradually stir in the polenta;

Reduce heat to medium and cook for 5 minutes, stirring, until thick.

Turn off the heat, then stir in the butter and most of the grated Parmesan or Romano, until well mixed. 

Taste and add salt as desired, keeping in mind that more cheese will be added at the end.

Cut the basil leaves into thin ribbons—do this right before serving, to prevent bruising the leaves.

Divide the polenta among individual, shallow bowls or plates, 

Spoon polenta into bowls, and top each with some basil ribbons, roasted tomatoes and their juices, a light sprinkling of crushed red pepper flakes, and the remaining cheese. 

Add a splash of olive oil, and serve warm.