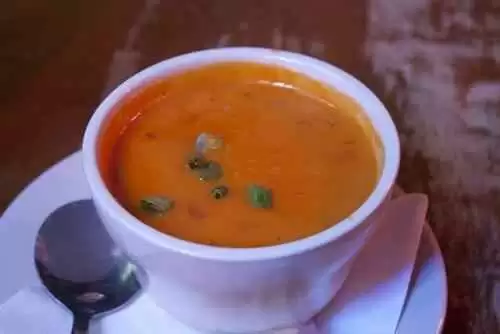 Caption: The finished creamy tomato soup. Photo: CC--Ian May
Celiac.com 12/10/2014 - Creamy tomato soup is a comfort food classic that goes great with a gluten-free grilled cheese sandwich. Alas, some canned versions contain wheat flour.
This gluten-free tomato soup recipe delivers a rich, creamy tomato soup that will warm your body and make your stomach sing with joy. Perfect for a cold day.

Ingredients:
1 (28-ounce) can whole peeled tomatoes in their juices (I use San Marzano)
2 cups chicken broth
1 tablespoon olive oil
1 tablespoon unsalted butter
1 medium sweet onion, chopped
2 bay leaves
½ teaspoon chopped fresh thyme
½ cup basil, cut to thin ribbons
½ cup heavy cream
Directions:
Heat oil and butter in a medium saucepan over medium heat.
Once butter foams, add onion and a big pinch of salt and fresh ground pepper.
Cook, stirring occasionally, until onion is completely soft and just beginning to brown, about 12-15 minutes.
Add broth, tomatoes and juices to the saucepan and stir to crush up tomatoes. Add bay leaves and heat until bubbly.
When soup bubbles, season with a little salt and pepper, add thyme and basil, and simmer gently until tomatoes begin to break apart, about 10 minutes, stirring occasionally.
Remove from heat, discard bay leaves, and allow soup to cool slightly.
Carefully purée soup in a blender until smooth. Be careful. If you don't have an immersion blender, you may have to do this in batches. I always cover the top with a towel, just to be safe.
Return soup to the stove over low heat and stir in cream. Taste and adjust seasoning as desired.
Serve with salad, or vegetables, and your favorite gluten-free grilled cheese sandwich for a delicious meal.