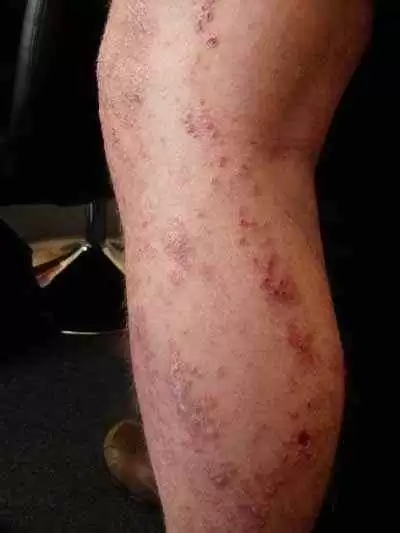 Caption: Photo: CC--Mysi Ann
Celiac.com 03/15/2016 - "Creating health comes down to the food we eat and how we choose to live our lives." – Dr. Terry Wahls
Lots of people find it hard to believe that such a common food as wheat/gluten could possibly be implicated in causing skin diseases. They say something like this: "Everyone eats wheat, but not everyone gets skin troubles—so it can't be wheat!" This logic is flawed. I have written this book so that you can read all of the evidence about gluten-related skin disease in one place. "Cutaneous gluten sensitivity" is one of the new terms applied to the group of gluten-related skin diseases.
---
Celiac.com Sponsor (A12):


---
---
Celiac.com Sponsor (A12-m):


---
Max belongs to this leg in the photo. He is very itchy and sore. He is 18-years old and not getting any better—in fact he has been getting worse. He came to me seeking help. Mum wrote,
"Max has been suffering from debilitating dermatitis over his whole body for the last 3 years. He is withdrawn, self-conscious, covered with sores, and feels he will never get better. Unfortunately, the creams he is putting on just seem to irritate him."

So, I am investigating him for gluten-related eczema. It will be a relief for him if the tests come out positive for gluten. What should be the strategy to get him better?

I don't want him to go through the rest of his life like Elizabeth Whitesell, from the Gluten Zero Facebook page, who explains:
"I was frantic with itching before my celiac diagnosis. The dermatologists never addressed the possibility of celiac, just gave me new treatments for my itching. I cannot name all of the creams, oils, pills and ointments I used, along with a blue-light treatment. Steroid shots, creams and pills were a major part of my treatment."
"I received some temporary relief and never traveled without my creams. Itching on my hands was so fierce that I carried a frozen ice block (the kind used in coolers) in my purse. When we were at a public event, I gripped my hands around the ice to ward off a noisy itching attack. Ice was my godsend to keep the itching from following its neurological path. All of my blouses had blood dot stains from clawing my upper arms like I was an ape when into full-time mode."
"My best treatment was freezing 2-liter bottles of water and holding them between my knees as I laid down to go to sleep. If I could fall asleep before the freaking stage began, I was on a roll. More frozen bottles were kept in a cooler by my bed for when the thaw came and I was too tired to walk downstairs to replace them."
"What a saint of a husband I had. Once I went gluten-free, so many changes came for the better. I did not suddenly notice the absence of itching but, one day, looked back and realized I was not traveling and sleeping with frozen bottles anymore. I hope dermatologists are more informed now."
Skin Diseases Associated with Celiac Disease
Gluten is known to cause skin disease. Gluten can definitely cause itchy skin. Collectively, these skin-diseases provoked/triggered/caused by gluten can be called "cutaneous gluten sensitivity". This is an umbrella term which includes:
Dermatitis Herpetiformis (DH);
Celiac associated skin diseases;
Non-celiac associated skin diseases.
So what is the evidence?
1) Dermatitis Herpetiformis: To summarise the previous chapter, the classic skin complaint is dermatitis herpetiformis. It usually affects the elbows, knees, buttocks, scalp, and back. It begins as little bumps that then change into little blisters. People say that they are driven mad by the itching. It is caused by an immune reaction to gluten in the skin. Microscopic clumps of immune-complexes get deposited just under the skin. This creates the very itchy rash. These tiny particles of immunoglobulins can take years to clear up once you start on a gluten-free diet. It is reported that it can take up to ten years before you make a full recovery.
2) Celiac Associated Skin Diseases: Marzia Caproni and co-workers have detailed the skin diseases that have so far been associated with celiac disease (and perhaps by implication, with gluten).
In their paper, "Celiac Disease and Dermatologic Manifestations: Many Skin Clues to Unfold Gluten-Sensitive Enteropathy" they include common skin complaints that most people do not associate with gluten-illness:
Dermatitis Herpetiformis
Psoriasis
Alopecia Areata
Chronic Urticaria
Hereditary Angioneurotic Edema
Cutaneous Vasculitis
Atopic Dermatitis Eczema
Vitiligo
They also remind us that enamel defects, delayed eruption, recurrent aphthous ulcers, cheilitis, and atrophic glossitis are gluten-associate conditions and that "the diagnosis of celiac disease can sometimes be made from a smile!"
Their important message is that anyone with any of these conditions should be investigated for celiac disease.
3) Non-celiac Associated Skin Diseases
The skin is a frequent target organ in gluten-sensitivity. The skin, hair and teeth can all be disturbed by gluten. However, eczema is a much more common manifestation of gluten-sensitivity.
Humbert and his dermatology colleagues (Gluten intolerance and skin diseases, 2006) wrote this about gluten and skin disease:
"Gluten sensitivity, with or without celiac disease symptoms and intestinal pathology, has been suggested as a potentially treatable cause of various diseases. There have been numerous reports linking celiac disease with several skin conditions. Dermatitis herpetiformis is actually a skin manifestation of celiac disease. Autoimmune diseases, allergic diseases, psoriasis and miscellaneous diseases have also been described with gluten intolerance."
"Dermatologists should be familiar with the appraisal of gluten sensitive enteropathy and should be able to search for an underlying gluten intolerance. Serological screening by means of anti-gliadin, anti-endomysial and tissue-transglutaminase antibodies should be performed. Gluten intolerance gives rise to a variety of dermatological manifestations which may benefit from a gluten-free diet."
This is an important statement.
In 2010, Korossy reported a skin eruption that he called "gluten-sensitive dermatitis" which he says is clinically indistinguishable from dermatitis herpetiformis but lacks the IgA connection. (Non-dermatitis herpetiformis gluten-sensitive dermatitis: a personal account of an unrecognized entity, Korossy, 2010).
Cutaneous Gluten Sensitivity
Bonciolini et al (2015) have made a study of the skin manifestations of people with Non-Celiac Gluten Sensitivity (NCGS) Cutaneous Manifestations of Non-Celiac Gluten Sensitivity: Clinical Histological and Immuno-pathological Features, Bonciolini et al 2015
They have adopted the term 'cutaneous gluten sensitivity'. They describe 17 consecutive patients affected by NCGS. They had excluded celiac disease and wheat allergy. They said:
"The skin lesions observed were similar both to eczema and psoriasis and did not show a specific histological pattern. Furthermore, no serological marker was useful to identify these patients. The only data common to most of these patients affected by NCGS associated to non-specific skin manifestations are:
the itching;
the presence of C3 at the dermoepidermal junction;
a rapid resolution of lesions when adopting the gluten free diet.
Therefore, dermatologists must be familiar with the cutaneous manifestations and symptoms of gastrointestinal disorders. An appropriate understanding, work-up, consultation and management will help to identify the important cutaneous–gastrointestinal connection and ensuring that this important gastroenterological disease in patients with skin manifestations is not ignored.
Finally, we suggest an accurate follow-up of all patients who report intense itching and gastrointestinal disorders, even when histology and morphology of the skin lesions do not identify a specific skin disease.
We also suggest the adoption of gluten-free diet for at least three months assessing any positive effects."
A Family Affected by Cutaneous Gluten Sensitivity
Katrina Ojakaar writes this about the severe skin problems in her family that were eventually shown to be related to gluten-harm:
"I had terrible eczema on my legs as a child. As an adult I had recurrent eczema on my eyelids and hands in addition to severe dry, itchy skin on my scalp, back, and legs. I also developed rosacea on my face that was treated unsuccessfully with antibiotics and topical ointments. At the age of 44, I had a lab test that showed gluten was making me sick. I immediately stopped eating food that contained gluten and within weeks watched my skin transform. I no longer have raw eczema patches or dry skin; and my rosacea has disappeared."
"My daughter, Lila, had horrific diaper rash as an infant and nothing seemed to heal her sore bottom. Even as she grew out of diapers, her bottom was always irritated. Lila's skin was also very dry and irritated. Lotions and even plain bath water caused a sting. But when Lila stopped eating gluten, her skin simply healed. She now has smooth, soft, and moist skin without irritation and enjoys a relaxing bath."
"My mother suffered from psoriasis on her legs and scalp until she stopped eating gluten at the age of 72. She is now 75, and the psoriasis has disappeared. Her skin is healthy, and she doesn't eat gluten, dairy, or oats."
My father had rosacea on his face and was diagnosed with the autoimmune disease called lichen planus about 12 years ago. He had raw, bleeding sores on his scalp. And his fingernails and toenails disintegrated where he was left with only tender skin. Three years ago my dad stopped eating gluten, and two months later, his fingernails started to grow back. He now has a thin narrow layer of nail at the age of 80. The lesions related to his lichen planus disease on his scalp are gone. And, my father's rosacea, like mine, also healed when he stopped eating gluten."
Keratosis Pilaris

Keratosis pilaris, or sometimes called 'chicken skin' is blamed on gluten by many people. It is very common, occurring in about 10% of people, and there seems to be a hereditary nature to it. It tends to lessen with age, being prominent in toddlers. Any gluten connection remains speculative.
Anne Luther writes:
"One of the many pleasant surprises I had when I stopped eating gluten was the disappearance of three different skin rashes. There were non-itchy bumps on my back and arms, non-itchy red bumps on the soles of my feet and a very itchy rash on my legs behind my knees. None of these were ever diagnosed by a doctor but they all disappeared after I had totally eliminated gluten from my life."
Keratosis pilaris is skin condition characterized by rough patches of skin caused by small, acne-like bumps. It is found mostly on the upper arms, upper thighs, and cheeks. It can feel a bit like sandpaper or goose-flesh. These little bumps are usually white, but can be red. They do not hurt. Sometimes they can feel a bit itchy.
Keratosis pilaris seems to be caused by a build-up of keratin, the protein that helps create the protective skin barrier. Once keratin has formed into a hard plug at the opening of the hair follicle, this can block the oil and sweat glands. Consequently, these substances cannot escape out onto the skin, and results in these patches of rough, bumpy skin.
I see a lot of keratosis pilaris in my Clinic. The gluten connection not clear, but many parents report its disappearance on a gluten-free diet.
What happened to Max?
Remember Max's legs at the beginning of this Chapter? Well it turned out that Max had two copies of the HLA gene DQ2 which gives him a 1-in-7 chance of developing celiac disease. It also increases his likelihood of having gluten sensitivity. However his blood tests for gluten (AGA) and celiac disease (tTG) were negative. But he did have evidence of a wheat allergy from his EAST tests. His total IgE levels were extremely high as well (over 4000), showing his heightened allergic status.
So he has now embarked on a trial of a gluten-free diet. Mum says, "I feel that we are starting to get to the bottom of it now." It will be another 6 months before we know his results of his gluten-free diet. It can take a long time to heal.
This was an excerpt from Dr Rodney Ford's latest eBook: "Dermatitis Eczema: Gluten Wheat – Solving the Eczema Puzzle." Available at: http://www.GlutenEczema.com