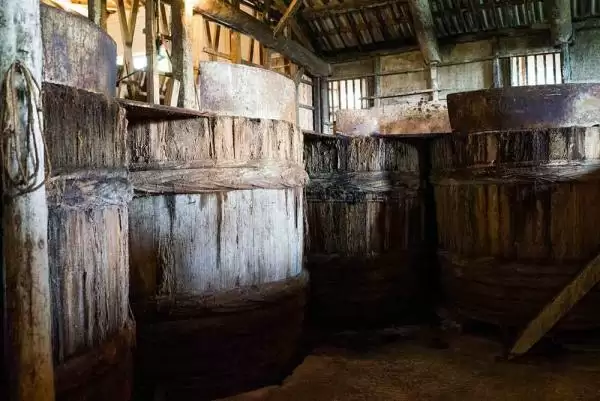 Caption: Wooden vats fermenting soy sauce. Image: CC--Joi Ito
Celiac.com 12/17/2018 - A 39-year-old woman with possible celiac disease was left brain dead after a dangerous internet "soy sauce colon cleanse" caused critically high levels of salt in her blood, which led to organ failure and death. The medical YouTube channel Chubbyemu, says that the woman, identified only by the initials, CG, arrived at the emergency room with a rapidly deteriorating mental status. Earlier that day, CG had performed a "soy sauce colon cleanse," a dangerous internet fad in which people drink an entire liter of soy sauce in two hours.
CG had been unwell for weeks before the incident. She had begun a diet made up exclusively of white bread and canned fish six months prior, and had lost 11kg, nearly 25 pounds, in the three weeks leading up to the soy sauce incident. Additionally, CG had been recently diagnosed with untreatable paranoid schizophrenia. She suffered from a psychosis that caused her to believe the government had poisoned her. 
After resisting all attempts to get her to drink water, CG began to stumble around and and mumble unintelligibly until she collapsed. She was rushed to a hospital and while en route went into cardiac arrest, before being resuscitated. Eventually, though, CG died as a result of acute hypernatremia— extremely high levels of salt in the blood.
Bernard believes the woman had undiagnosed celiac disease, which manifested as psychosis and delusional disorder. He adds that a microscopic examination of her cells revealed "marked villous blunting and atrophy", a common sign of celiac disease. Bernard argued she developed gluten sensitivity, became delusional and was misdiagnosed, and later falling victim to internet misinformation. 
If that is true, then the story is a sad one, indeed. In any case, the dangers of drinking large amounts of soy sauce or any other salty substance can hardly be overstated. Be very careful and always seek out the advice of a doctor before beginning any type of "cleanse" or "purge" meant to rid the body of "toxins."
See the video on the YouTube Channel Chubbyemu.
Read more at: News.com.au