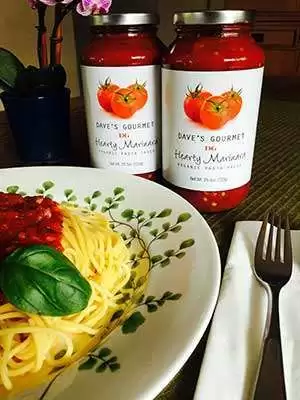 For lunch today, I had gluten-free spaghetti pasta topped with Dave's Gourmet Hearty Marinara Gluten-Free & Organic Pasta Sauce—and the sauce was definitely hearty! I immediately noticed the large chunks of fresh tasting tomatoes and garlic in the sauce which was balanced perfectly with organic basil and onions.
I love that this sauce uses only organic ingredients and real extra virgin olive oil as some pasta sauces use less expensive versions like canola oil. As you can probably guess, Dave's also doesn't use any artificial ingredients, colors, or flavorings. Another plus is that this marinara sauce doesn't taste too salty which is my pet peeve with many pasta sauces (if I want salt I'll add it or use Parmesan, thank you). In fact, this sauce has just the right amount of saltiness which means that the taste of the tomatoes, garlic and basil really come through in every bite.
---
Celiac.com Sponsor (A12):


---
---
Celiac.com Sponsor (A12-m):


---
Overall, Dave's Hearty Marinara sauce is an authentic, full bodied, and very rich-flavored marinara sauce that is not only healthy, but tastes great. I would recommend it to anyone—and not just those who are on a gluten-free diet.

For more info visit: davesgourmet.com.

 

 

Review written by Scott Adams.