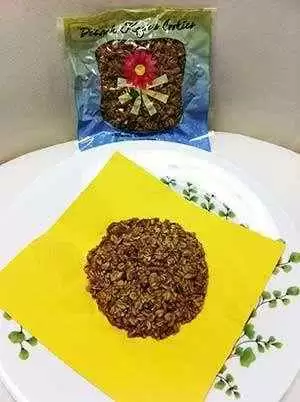 Caption: Do you miss gluten-free oatmeal cookies?
We recently received gluten-free oatmeal cookie samples from Deborah Kayes Cookies, and their "Oatmeal Chocolate Pecan" cookie was calling my name!

Before I go any further with this review, I have to say that these are not your ordinary gluten-free cookies. These cookies are loaded with certified gluten-free oats and contain no flours or refined sugars. In addition to this most of the ingredients are organic.  Their cookies have a bit of a rustic look since they are all hand made, and they are huge compared to most cookies on the market (gluten free or not). Each cookie is also individually wrapped which makes it convenient for those times when I have to rush out the door with the kids, or need to keep something in my desk for a snack.
For more information about Deborah Kayes Cookies, visit their Web site: http://deborahkayes.com
Note:Articles that appearin the "Gluten-Free Product Reviews" section of this site are paidadvertisements. For more information about this seeour Advertising Page.