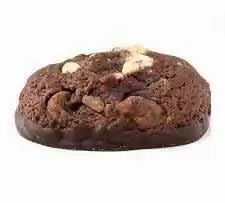 This recipe was converted from Kilograms to USA measurements.
Ingredients:
Butter - 5 oz. or 0.625 Cups
Potato Starch - 0.55 Cups
Sugar Castor - 0.37 Cups
Cocoa Powder - 1.75 Tablespoons
Dark Treacle - 2 Tablespoons
Glucose - 2 Tablespoons
Glycerine - 1.75 Tablespoons
Egg - 1.37 oz.
Ammonium Bicarbonate - 0.66 Teaspoon
Sodium Bicarbonate - 0.42 Teaspoon
Salt - 0.42 Teaspoon
Maize starch cornflour - 0.39 Cup
Rice flour - 0.30 Cup
Soy Flour - 0.22 Cup
Water
Dark & White Choc Chunks - 10.31 oz.
---
Celiac.com Sponsor (A12):


---
---
Celiac.com Sponsor (A12-m):


---
Directions:
Add butter, sugar, cocoa powder and potato starch to blender and mix high speed 4 mins.
Add glycerine, treacle and glucose and mix for 2 mins on medium speed.
Add egg slowly whilst mixing.
Add both baking powders & salt and mix for 2 mins on medium.
Blend in maize starch, soy flour, and rice flour.
Add water while mixing on slow speed.
Add choc chunks and mix for 2 mins on medium speed.
Leave dough to stand at room temperature for 30 mins.
Flatten and spread dough (approx 1"high) on bench with non stick paper.
Use a glass (approx 3"diam) to cut cookie dough pieces and place on wire backing tray.
Bake in oven pre-heated to 220 degrees for 20 mins. Remove and cool for 20 mins at room temperature.
Optional:
Substitute Inclusions within the mix of chocolate chunks and use nuts, milk chocolate chunks or fruit pieces but ensure the combined mix weight remains at 10.31 Ounces. Chocolate Enrobe the baked cookies when they have cooled by heating your favourite gluten free chocolate and either drizzling stripes over each cookie or by covering all over—place the cookies on a wire baking tray when enrobing—place in a refrigerator for 20 minutes to set.