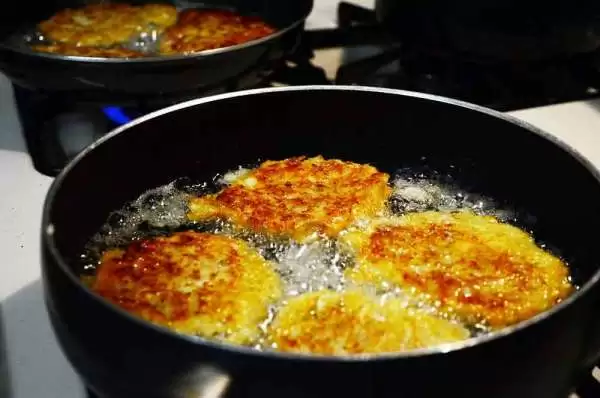 Caption: Image: CC BY 2.0--slgckgc
Celiac.com 11/30/2019 - Potato Latkes have a storied place in food lore. Latkes and potatoes are usually joined at the culinary hip. You don't usually get a latke without a potato. We've previously published recipes about more traditional-style gluten-free potato latkes, you know, the ones with actual potatoes in them. These are not those latkes. Except for a bit of potato starch, these latkes are both potato-free and gluten-free. They are also easy to make, quick to cook, and sure to please.
Ingredients:
2 Honeycrisp or Gala apples, plus 2 Granny Smith apples, each stemmed, cut in half and cored
Juice of 1 lemon
½ teaspoon fine sea salt
¼ cup potato starch, or tapioca flour
½ teaspoon baking powder
¾ teaspoon freshly ground black pepper, plus more as needed
4¼ ounces extra-sharp aged white cheddar (1¼ cups)
1 large egg
Vegetable oil, for frying
---
Celiac.com Sponsor (A12):


---
---
Celiac.com Sponsor (A12-m):


---
Directions:
Line baking sheet with paper towels, then seat a flat cooling rack on top.

Use a large-holed grater, or food processor, to shred the apples into a mixing bowl. 

Add the lemon juice and salt, then toss to coat. Let sit for 5 minutes.

Meanwhile, whisk together the potato starch or tapioca flour, baking powder and pepper in a separate mixing bowl.

Transfer the apples to a clean kitchen towel or at the center of a few layers of cheesecloth. 

Squeeze out as much moisture as possible over the sink, then open and let the shredded apple fall into the potato starch or tapioca flour mixture, shaking it all out of the cloth. 

Add the cheese and mix well. 

Add the beaten egg and stir to distribute evenly.

Pour in enough oil to create a depth of ¼-inch in a large nonstick skillet over medium heat. 

Once the oil shimmers, add 4 or 5 double tablespoonfuls, flattening each one slightly and leaving space between them. 

Pan-fry for about 1 minute until browned on the bottom, then use 2 spatulas to carefully turn them over, so they land away from you in the skillet. 

Cook for 30 seconds to 1 minute until golden brown on the second side, then transfer to the rack to drain.

Season lightly with pepper, and serve warm.