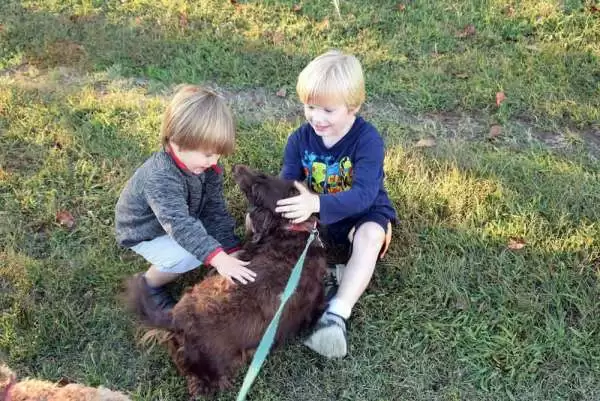 Caption: Kids playing with their dog. Image: CC BY 2.0--Tobyotter
Celiac.com 05/21/2020 - Currently more than 2.4 million people worldwide have contracted COVID-19, suffering symptoms ranging from fever and dry cough, to temporary loss of smell and taste, to extreme respiratory distress requiring oxygen, and even intubation. In many places, hospital resources have been taxed, as large numbers of people have sought medical help. Until recently, young people, especially children were thought to be generally safe from the virus and its effects. That has changed recently, as new information has come to the attention of doctors. In one recently finding, researchers noted that "three children in New York have died from a rare inflammatory syndrome believed to be linked to the novel coronavirus."
Meanwhile, dermatologists across the globe are seeing large numbers of children with inflammation of the blood vessels in the hands and feet. Dubbed "COVID fingers," and marked by purple-red papules on the fingers and toes, which resemble chilblains. 
---
Celiac.com Sponsor (A12):


---
The condition is officially known as "erythema pernio," and is defined by the National Institutes of Health as a "itchy and/or tenderness or reddish or purplish bumps that appear in reaction to cold." Typically, clinicians see fewer than 200,000 cases in the United States each year. 

The condition is common in lupus, and other autoimmune conditions, such as celiac disease, viral hepatitis and HIV. Patients suffering from COVID fingers tend to be young, and may not show other symptoms.

Amy Paller, MD and chair of the Department of Dermatology at Northwest University Feinberg School of Medicine, says that, in the wake of the COVID-19 pandemic, dermatologists are seeing major surges in the numbers of young patients with symptoms of erythema pernio. "Generally, these are perfectly healthy children with mild symptoms, and frankly, since some of these tests are still difficult to access, we don't know for sure if they have COVID-19," says Paller. "So I think we will find out much more next week or in two months."
Are COVID fingers a Sign of Asymptomatic COVID-19?
Italian clinicians noticed the first cases of painful blisters and red sores in the fingers and toes of children with COVID-19 in late March. That COVID-associated surge in erythema pernio in children with COVID is a major reason American dermatologists think that the two conditions are connected. 
Symptoms of erythema pernio usually appear within hours of exposure to cold temperatures, and can lead to more painful skin reactions such as "blisters, pustules, scabs. and ulcers."
Do you or anyone you know suffer from erythema pernio, or "COVID-fingers?" Have you or they been tested for COVID? Share your story below.
Read more on "Covid fingers" in children at Explica.co.