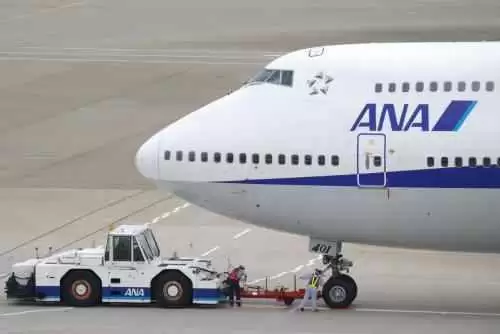 Caption: Image: CC--yamaguchi yoshiaki
Celiac.com 05/04/2017 - Japan's ANA airline is catching some public relations heat this week after reports that a man flying from Tokyo to Australia received a banana instead of the gluten-free meal that he booked in advance.
London resident, and celiac disease sufferer, Martin Pavelka flew All Nippon Airways flight from Tokyo this week, a nine-hour flight.
The fact is that Mr. Pavelka did receive his specially-ordered gluten-free meal at dinner, shortly after departure. The banana was part of the breakfast meal, the second meal service for the flight, which is where the trouble began for Mr Pavelka, who said he was "expecting something more substantial."Â
"All other passengers were served full breakfast meal consisting of eggs, sausage, mushrooms, bread, and yogurt,"Â Pavelka told the Standard, while all he received was a single banana,"Â which though "definitely gluten free…did not keep me full for very long."Â
So, let's add this all up. On a nine-hour flight, Mr. Pavelka received his special gluten-free meal for dinner, and then about 5 hours later, about 2 hours or so before landing, he received a banana in lieu of a full breakfast? But he wanted more? And this is a new story?
In the account given by the Standard, Mr. Pavelka's first words to the flight attendant were "is this some kind of joke?"Â Not exactly diplomatic language. Nor, by the Standard's account did Mr. Pavelka ask for anything more, such as a yogurt, or additional fruit?
Clearly Mr. Pavelka received less food at breakfast than the other passengers, but the food was gluten-free, as was his earlier dinner. It's entirely reasonable for Mr. Pavelka to expect to be treated like the other passengers, and to receive more for breakfast.
However, without more detail, it's hard to know exactly what ANA offered at the time of booking, or whether there was some kind of mix-up with the caterers who provide meals, including specialty meals, to ANA. Do we know for sure that ANA actually offered a full gluten-free breakfast on that flight? Or that Mr. Pavelka was promised one? That said, both Mr. Pavelka and the newspapers covering the story owe it to the public to be more clear and less sensational about the actual facts. Expecting two gluten-free meals, and receiving one gluten-free meal and a banana is a very different story than just receiving a banana.
Reports that the banana was the only gluten-free food ANA provided Mr. Pavelka for the entire nine-hour flight are simply wrong. ANA in fact provided Mr. Pavelka with a gluten-free dinner. The Standard managed to bury that important detail in paragraph ten of an eighteen paragraph article, while the Independent slipped it into paragraph seven of a thirteen paragraph article. Both papers carefully avoid mentioning the fact that the dinner was gluten-free.
The paragraph in the Standard reads: "Although he had been given a larger meal the previous evening when his flight left, Mr Pavelka said he was expecting something more substantial for breakfast."Â
Yet, somehow, the Standard published the story under the fact-mashed title, "Londoner who ordered gluten free meal on nine-hour flight is given a single banana to eat with knife and fork."
Both the newspapers and Mr. Pavelka seem focused on spinning a story that the banana was the only food ANA provided Mr. Pavelka during the flight, which was simply not the case.
Such obfuscation, presumably in search of readership, does little to provide clarity on the actual details, and much to cause doubt and confusion about what are actually fairly simple, if inconvenient, facts to a fairly mundane, and not-altogether newsworthy, story.
If Mr. Pavelka received only a banana for his nine-hour flight, that would truly be an outrage. If he received a gluten-free meal, plus a banana, that would be an inconvenience. The story was presented as an outrage, when the facts indicated it was clearly more of an inconvenience.
This article was revised for clarity by the author on 5/10/2017.
Read more: