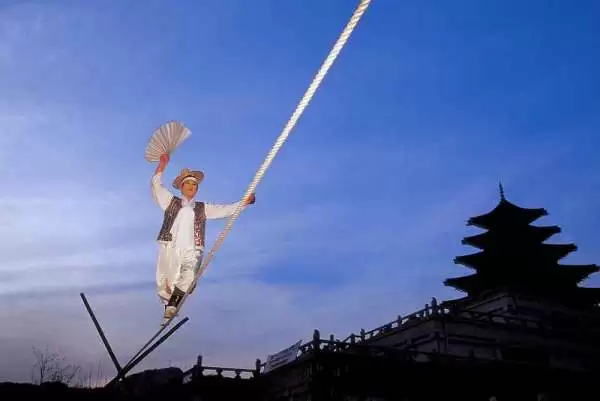 Caption: Balance can be an issue for those with gluten ataxia. Image: CC BY-SA 2.0--KOREA.NET - Official page of the Republic of Korea
Celiac.com 06/12/2020 - What happens in Gluten Ataxia?  Well, first, we want every celiac person to know what Gluten Ataxia is to ensure we are on the same "wave length". Gluten Ataxia is an autoimmune disorder in which the antibodies that are released in sensitive individuals when digesting gluten attack part of the brain by mistake. Since Gluten is a protein found in wheat, rye and barley, one would think that gluten exposure would have nothing to do with the brain, but since most people have no trouble with digesting this protein, others have a gluten sensitivity or celiac disease.
 
In some cases the body's reaction to gluten can become quite severe. In these cases, the body starts to attack the central nervous system which may cause gluten ataxia. People who have issues digesting gluten may also develop digestive problems that cause damage to the small intestine. 
 
Gluten Ataxia usually starts off with mild symptoms, and gradually become worse over time. When left untreated the condition could lead to permanent damage.  There is also evidence that people who suffer from gluten ataxia will show signs of cerebellar atrophy. Cerebellum atrophy is the shrinkage of the cerebellum.  The cerebellum if the part of the brain located in the back of the head above the neck. The cerebellum is responsible for movement and has a direct impact on activities such as balance, speech, posture, walking and running.  Gluten Ataxia is a relatively new discovery and thus not yet widely known to doctors and other medical professionals. This can make a diagnosis and proper treatment difficult to obtain.
 
However, there are groups of researchers dedicated to spreading information abut this rare condition. As mentioned, it is a progressive condition, which means that symptoms may start off mild and almost unnoticed, and gradually progress to being debilitating.  The symptoms of gluten ataxia are similar to symptoms of other ataxia conditions, which can make it tricky to get an accurate diagnosis. The symptoms appear in basic movements, such as walking or arm control, unsteady gait, difficulty walking, and loss of precise movement skills such as the ability to write or button a shirt.
Parents should be on the lookout for ataxia symptoms in  their kids. Children with celiac disease, specifically those in their early teens, would likely benefit from mental health evaluation. Strict adherence to the gluten-free diet does not mean you will never get gluten ataxia, especially for those who are not strict enough with their gluten-free diets.  
---
Celiac.com Sponsor (A12):


---
---
Celiac.com Sponsor (A12-m):


---
Some researchers have estimated that potentially up to 41 percent of all people with ataxia of unknown origin may have gluten ataxia.  Other studies have indicated much lower numbers. A review of mental health studies indicated a prevalence of roughly 23 percent in patients with unexplained ataxia. 

In the last eight years or so the celiac community has finally been made aware of "gluten sensitivity" as a legitimate diagnosis. Twenty-five years ago you would not have heard of it, but now it has been given a rightful place along side of celiac disease and dermatitis herpetiformis. The same is true for gluten ataxia, its recent discovery will allow those who have it to say: "Finally, finally, someone is finally listening to me!" 

Read more at medicalnewstoday.com