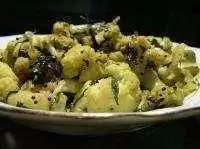 Caption: The finished dijon and herb roasted cauliflower. Photo: CC--Laurel Fan
The best side dishes are those that neatly bring together a few simple ingredients and pack an unexpected flavor. The sweet herbs in this dish compliment the tangy mustard and offer a bright melody of flavor that will have your guests wondering with delight over the pleasantly zingy flavors.
You could substitute dried herbs for their fresh counterpart, especially if they're already in your pantry. Toss in about half of the listed measurement with the olive oil, mustard and garlic.
---
Celiac.com Sponsor (A12):


---
---
Celiac.com Sponsor (A12-m):


---
Ingredients:


2 pounds cauliflower, 1-2 heads
3 tablespoons Dijon mustard
1 tablespoon fresh chopped tarragon
1 ½ teaspoons fresh chopped thyme
2 tablespoons olive oil
1 teaspoon salt
1 teaspoon pepper

Directions:
Preheat oven to 400° F.

Clean and cut cauliflower into 1-inch florets. Arrange in a glass baking dish and set aside.

In a small bowl, whisk together olive oil, mustard and garlic. Mix in salt and pepper. Pour mixture over cauliflower and toss until well coated.

Roast cauliflower for 30 minutes. Remove and fold in tarragon and thyme before serving.