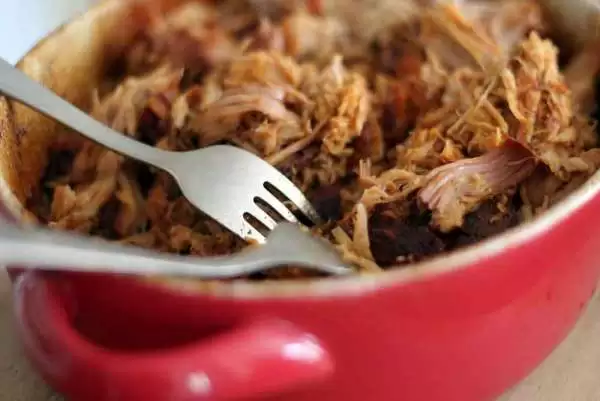 Caption: Image: CC BY-ND 2.0--ohsarahrose
Celiac.com 11/14/2019 - There are always times when the family is going in a million different directions at dinner time.  Right now it is basketball season and with our regular schedule of school meetings and other evening events it means a bit of pre-planning is necessary to have a hot meal at home awaiting the various shifts for dinner.
Our children are on a gluten-free diet so these nightly challenges are especially difficult.  The best approach is to collect some great recipes and be prepared for a crazy week.  We have found that salads, one-pot meals, and the dreaded casserole work for these busy evenings.  We also want meals high in protein, low in fat, great tasting, requiring less than 30-minutes assembly time.  It is pretty tough to meet the mark on all of these criteria every night.
Salads
A favorite is the chef salad.  Earlier in the day it is pretty easy to cook up some extra bacon at breakfast and hard-boil some eggs.  The rest is quick: chopping turkey, cheese, tomatoes, and scallions, washing lettuce and making a salad dressing.  Each family member can assemble their own salad when they return home.  I try to make extra for lunch the following day.
When preparing chicken, cook extra for leftovers to slice and add to a salad for a meal later in the week when time is tight.
Casseroles and Egg Dishes
In my mind the casserole holds a somewhat negative place.  It conjures up images of a meal made of overcooked vegetables and strange combinations.  However, there are a few that I happily make and our family loves them.  Many Mexican dishes can serve as casseroles and who can resist lasagna or mac and cheese? During my recent stint at a local pie shop I spent a lot of time making quiche and of course I kept wondering why I hadn't made many of these at home—they are so good!  The obvious reasons to avoid them are because you need a pre-made GF crust, and they are high in fat.  (If they taste good believe me they are).  We have always made the Savory Crustless Tart with Artichoke and Bacon (recipe below) and find it to be a better, healthier alternative.  Serve it with a quick salad and you have a great meal.  With two teenagers in the house we need to double the recipe.
One-pot, slow-cooked meals
This covers a wide range of meals from spaghetti sauce to pulled pork….one of my favorite easy meals.
Pulled Pork
Untie a pork butt roast and lay it out in an even layer in a roasting pan.  Pour over the pork a 12 ounce bottle of green taco sauce (La Victoria is GF), an 8 ounce can of chopped green chiles, and about a ¼ cup of water.  Cover pan tightly with foil and bake for 3-4 hours in a 250 degree oven.  The pork will be "pull apart" tender and can be used "as is" in steamed corn tortillas with jack cheese.  We like to quickly pan-fry the pork in a little oil in a non-stick skillet to impart a lightly crispy texture to the meat.  Serve with some refried beans.  If you have time you can make a quick salsa with chopped tomatoes, cilantro, jalapeno, and onion with a squeeze of lime juice.
For those who are at work all day, an investment in a slow cooker is a great way to go and there are many good recipes for slow-cooked meals.  Because I work at home I often use a Dutch oven to slow cook one-pot meals.  The benefit of a Dutch oven versus the slow cooker is that you can brown the meat on the stove before placing it in the oven.  Dutch ovens distribute heat evenly and slowly.  They produce tender and juicy results.  I recently purchased my first Le Creuset Dutch oven and even though it was expensive I know it will last a lifetime and is worth the investment.  Another item to consider is one of the new, safe pressure cookers.  Many natural food markets teach classes on how to use them and they are a great time saver in cooking beans, beets, and soups.
In a perfect world we would all be able to go to the grocery store once a week with a list of ingredients for a weeks' worth of meals that are quick and easy to prepare.  Most of us fall somewhere short of that ideal but hopefully these ideas will help to lighten your load.