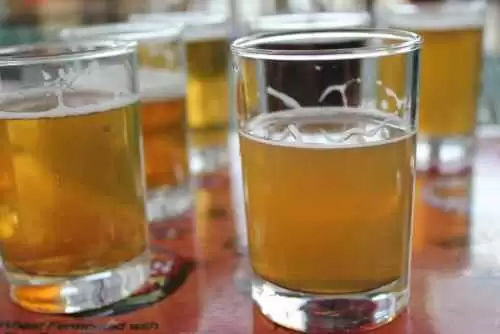 Caption: Photo: CC--Quinn Dombrowski
Celiac.com 11/14/2017 - One reason conventional beers remain unsafe for people with celiac disease is that they contain gluten fragments that push the finished product over the 20ppm standard for gluten-free products. Such gluten fragments in conventional beers render them unsuitable for people with celiac disease.
There's been some confusion about the best ways to measure gluten levels in fermented foods and beverages. That confusion has prompted more confusion over the methods used to remove gluten from beers brewed with traditional barley. Are such beers gluten-free and safe for people with celiac disease?
A team of researchers recently set out to assess such results using liquid chromatography–mass spectrometry analysis. The research team included Michelle L. Colgrave, Keren Byrne, and Crispin A. Howitt. They are affiliated with CSIRO Agriculture and Food in Australia.
The team's analyses showed gluten peptides derived from hydrolyzed fragments, many >30 kDa in size. This may render gluten levels above 20 ppm in the final product. As expected, the team found various types of barley gluten in all conventional beers they analyzed. However, they also found gluten fragments in some gluten-removed beers.
This indicates that gluten breakdown was incomplete in some commercial gluten-removed beers. Furthermore, the research team was able to spot the peptides that made up the unbroken gluten fragments. They suggest that these results may warrant further optimization of PEP gluten reduction methods in commercial settings. Since most manufacturers place a heavy premium on product quality, I would look for brewers to use this kind of information to improve their gluten-reduction processes going forward.
We clearly need to learn more about the scope of the potential issue. These analyses were made using liquid chromatography and mass spectrometry. Because they make precise measurements of small amounts of things, they are not practical for analyzing commercial products. 
So, we definitely need a better way to measure gluten levels in fermented products, since current methods can provide inaccurate results.
What does this all mean for people with celiac disease?
Obviously traditional beers beers with gluten levels over 20 ppm are best avoided. Gluten-free beers are likely fine. For celiacs who tolerate gluten-removed beers, there's little reason to change. If you have a favorite brand that works for you, that's likely okay.
However, based on these findings, there is reason to be vigilant when trying a new gluten-removed beer.
We advise people to follow their gut when consuming any product labeled gluten-free or gluten-reduced. As always, choose your products carefully. Even trusted products can change, or have something wrong with them from time to time. It's good practice to avoid any product seems to upset your stomach or trigger symptoms.
Also, if you think a food labeled gluten-free is contaminated, by all means, report it to the FDA, and consider reporting it to the manufacturer.
Lastly, it seems that manufacturers may want to take a closer look at their brewing process and their final product to be sure that gluten levels are under 20ppm.
In the meantime, stay tuned for more developments on this and related stories.
Source: