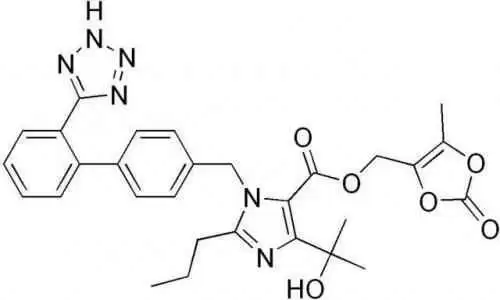 Caption: Image: Wikimedia Commons
Celiac.com 07/09/2014 - Does the blood pressure medication Benicar (Olmesartan medoxomil) trigger celiac-like gut symptoms?

The law firm Levin, Papantonio has filed a lawsuit claiming just that, on behalf of a Texas man who allegedly developed a rare gastrointestinal condition known as sprue-like enteropathy while taking Benicar.
The lawsuit comes as Benicar faces scrutiny following a Mayo Clinic study linking the popular drug to rare sprue-like enteropathy in users.
The connection between Benicar and the sprue-like enteropathy symptoms was first noted by Mayo Clinic gastroenterologist, Dr. Joseph Murray, after he observed two patients taking Benicar experience relief from symptoms thought to be associated with Celiac disease. Upon discontinuing the use of Benicar, the gastrointestinal symptoms vanished.
Dr. Murray then conducted a three-year study of 22 people who experienced celiac-like symptoms while taking Benicar. He found that 14 of those patients had symptoms so severe that hospitalization was required.
Moreover, none of the 22 original patients responded to a gluten-free diet, and none showed any detectable levels of tissue transglutaminase in the blood, which would point to celiac disease.
After discontinuing the Benicar treatments, the intestinal symptoms disappeared in each of the 22 patients, and they all regained lost weight.
In 2013, in keeping with Dr. Murray's findings, the U.S. Food and Drug Administration changed Benicar's label to include a warning that the drug may trigger sprue-like enteropathy and symptoms similar to celiac disease.
If you think you may have suffered adverse effects from Benicar, check with your doctor, and possibly with a lawyer.
Sources: