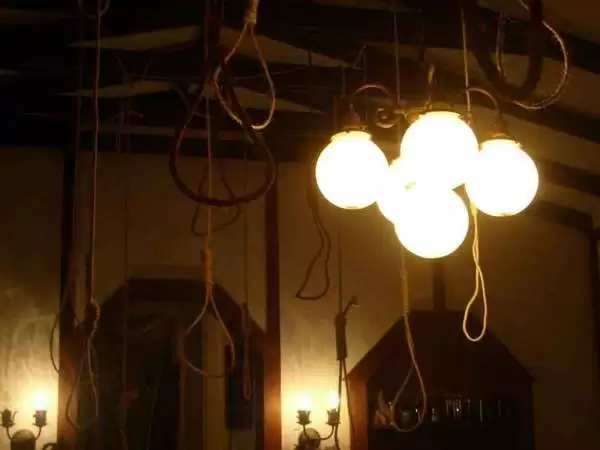 Caption: Nooses hanging from rafters. Image: CC BY-SA 2.0--Brett L.
Celiac.com 03/18/2020 - Researchers are still debating the extent to which celiac disease might cause brain damage. Some research has indicated that celiac disease can trigger changes to brain white matter, among other potential issues.
A team of researchers recently set out to validate previous reports, we investigated the prevalence of neuropsychological dysfunction in persons with celiac disease included in the National UK Biobank, which contains experimental medical data from 500,000 adults in the United Kingdom.
---
Celiac.com Sponsor (A12):


---
The research team included I.D. Croall, D.S. Sanders, M. Hadjivassiliou, and N. Hoggard. They are variously affiliated with the University of Sheffield, Academic Unit of Radiology; the Academic Unit of Gastroenterology; and the Department of Neurology at Royal Hallamshire Hospital, Sheffield Teaching Hospitals NHS Foundation Trust, Sheffield, United Kingdom.

The team matched 104 otherwise healthy celiac disease patients with 198 healthy individuals controls, closely matched for age, sex, level of education, body mass index, and diagnosis of hypertension. The researchers then compared scores from five cognitive tests, and multiple-choice responses to six questions about mental health, between groups using t test and χ2 analyses. 

Group analyses of magnetic resonance imaging brain data included a study of diffusion tensor imaging metrics (mean diffusivity, fractional anisotropy, radial diffusivity, axial diffusivity), voxel-based morphometry, and Mann-Whitney U comparisons of Fazekas grades.

Compared to the control subjects, celiac disease patients showed substantially slower reaction times, and markedly higher rates of anxiety, depression, thoughts of self-harm, and health-related unhappiness. 

Tract-based spatial statistical analysis showed sharply higher axial diffusivity in widespread locations, which shows that white matter changes in brains of people with celiac disease. Voxel-based morphometry and Fazekas grade analyses were similar between the groups.

Brain imaging shows that celiac disease patients suffer from cognitive deficit, changes to brain white matter, and reduced mental health, which support the notion that celiac disease is associated with both neurological and psychological features.

Read more in Gastroenterology