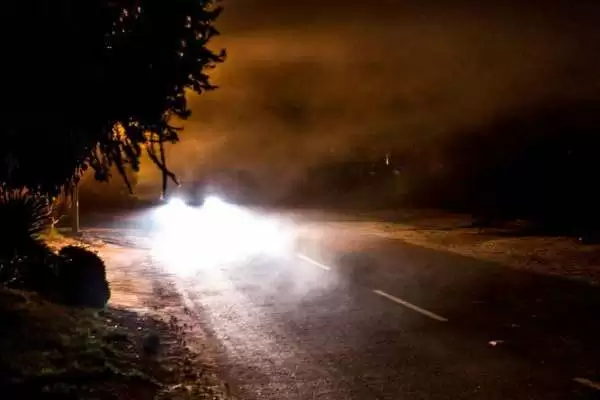 Caption: Driving in the fog. Image: CC BY 2.0--siraf72
Celiac.com 09/17/2020 - A recent "Advisory" issued on August 29, 2020 by the Canadian Food Inspection Agency (CFIA), followed by a product recall, has brought up an interesting question: Which food safety system works better, the USA's or Canada's? The alert was issued two weeks ago for President's Choice Brand "Gluten-Free" Chicken Strips, the text of which reads:
"In response to several reported reactions from consumers, the Canadian Food Inspection Agency (CFIA) is recommending individuals with celiac disease, or others with gluten-related disorders, to not consume the product described below as it may contain undeclared gluten. "
The advisory goes on to list the UPC number (0 60383 20488 4) and product code (2021 AL 20) of the chicken strips to avoid.
---
Celiac.com Sponsor (A12):


---
---
Celiac.com Sponsor (A12-m):


---
What caught our eye about this particular alert was that it was an "Advisory," rather than a recall, and recalls are what we typically see issued by both the CFIA and the FDA. This raised the following question: What is the difference between a CFIA "Advisory" and a "Recall", and is it better to have both?  

On August 31, 2020 we sent an email to the the CFIA's media department where we asked several questions, and on September 2, 2020 we received the following responses from Christine:

Q: What is the threshold minimum number of complaints required to trigger this type of public warning?
Christine's Answer: "There is no set number of complaints required to issue a public warning. The CFIA issues public warnings on a case-by-case basis. In this case, the Agency had credible information from several sources that a particular product was the cause of several illnesses."
Q: Did you test any of this company's products before issuing this warning?  How did you determine that gluten was present in this product before issuing this warning?  
Christine's Answer: "In this case, the Agency acted on credible information from several sources that a particular product was the cause of several illnesses.  It was affecting individuals with Celiac disease who normally show adverse reactions to the presence of gluten.  Given the potential severity of reactions, the Agency chose to inform individuals with Celiac disease and other gluten related disorders based on a pattern of reactions."
Q: Did you speak with any representatives at this company before issuing this warning?
Christine's Answer: "Loblaw Companies Limited was contacted before issuing the consumer advisory and the recall warning."
Q: Did any of the people who complained about the product run any tests for gluten?
Christine's Answer: None of the complainants supplied test results for gluten to the Agency.
After 25 years operating the Celiac.com Web site, including over 15 years of running our site's forum, one thing we've learned is that it can be very inaccurate to try to determine whether or not something has gluten in it just by someone's gut reaction to it. While some celiacs swear they can do this accurately, many celiacs, especially during the 1-2 year period following their diagnosis, can react in a similar way to all sorts of things like casein/milk, corn, eggs, soy, etc., possibly due to the "leaky gut" condition caused by the disease. Some celiacs swear they react to distilled alcohols made using gluten containing grains, even though scientists and the FDA have determined them to be gluten-free.
Given the extremely high expenses that such an advisory could create for a food company, we were hoping to get a more specific answer to our first question, and were very surprised to discover that there is no threshold to trigger such an advisory. Could a single report from a celiac trigger an advisory to be issues? Below are examples of stories that ran in the press just one day following the advisory, which triggered Loblaw to voluntarily recall the product:

Notice that none of these stories leave any doubt that there was gluten in the product, even though the CFIA made it clear in answering our first round of questions that the product never tested positive for gluten. At this point we were scratching our heads and wondering whether this system was working as planned, and whether it was doing a good job of keeping celiacs in Canada safe, or were advisories being issued without any real evidence that the product contained gluten? Since the CFIA indicated that there is no specific threshold for the issuance of such an advisory, we really had no idea if "several" complaints meant two or three, or two or three hundred.
Directly following Christine's September 2, 2020 responses we sent a follow up question to her, but this time Patrick, rather than Christine, responded to it:
Q: How can you be sure that the reactions that have been reported were not caused by a bacterial, chemical, or other issue with the product, rather than by gluten in the product?
Patrick's Answer: "In this case, multiple individuals consumed the product and only those with celiac disease or allergies to wheat reported reactions.  This points to gluten/wheat being the causative agent.  In addition, some individuals reported anaphylactic shock. Those reactions are not associated with bacterial or chemical contamination in food.

After the Consumer Advisory was issued, the food safety investigation was able to confirm that one of the ingredients contained gluten and a recall was issued by Loblaw Companies Limited."
Patrick's response certainly makes this sound like an open and closed case of wheat contamination in a product that was labelled gluten-free. If true the CFIA's advisory system was very effective at detecting gluten in a gluten-free product, which is exactly what their advisory system was designed to do—protect its citizens as soon as possible from dangerous foods. 
Even though the CFIA's system appears to have worked well in this case, it also seems like it could easily result in costly errors. By not setting a threshold number of complaints, or verifying the presence of gluten in a product before issuing such an advisory, it's possible that a costly mistake could be made, and if so, such an error could severely damage a small company. In this instance the company was a large one, which means that the product was distributed more widely, and it was therefore more important to react quickly, especially for those with anaphylaxis. 
Many people in the USA have reported complaining to the FDA about the possibility of gluten in products that are labelled "gluten-free," for example certain General Mills cereals, however it appears that the FDA has a much higher threshold for issuing a product recall. At the time of writing this article we could not verify exactly how the warnings sent into the FDA are used to issue a recall, but we assume that they follow up by testing the reported batch and/or lot number of the reported products, and if gluten is found we assume they issue the recall.
We wonder if the FDA's current system would have been able to detect gluten in these chicken strips and issue a recall as quickly as the CFIA's advisory system did? On one hand it makes perfect sense to verify complaints with positive testing for gluten before issuing any recall, if only to avoid costly errors that could harm companies, on the other hand it's possible that such delays could cause serious injury, or even deaths. 
Ultimately it's possible that both countries' systems could learn something from one another, and each could be improved.
Tell us in the comments below which food safety system you like better,  the FDA's possibly more conservative approach, or the CFIA's seemingly more aggressive approach?
Read the original consumer alert at: healthycanadians.gc.ca