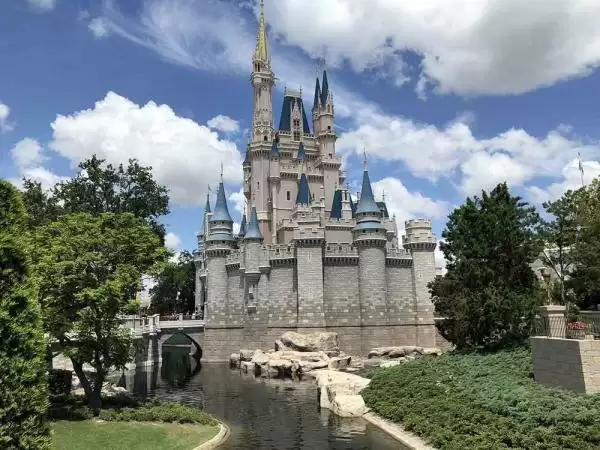 Caption: Image: CC--R. Crap Mariner
Celiac.com 11/30/2018 - By day, I am a special education teacher in a large public middle school.  I am also the mother of three "children," ages 27, 21, and 16.  Several months after our oldest daughter Jennifer's diagnosis with celiac disease, I too was diagnosed with it—this following a family screening, then a biopsy.  Jen and I both had the good fortune of joining a strong local celiac support group.
When we first made vacation plans to go to Disney World, our biggest dilemma was whether to drive to Orlando and save ourselves some money, or to splurge a little and fly.  Due to Jennifer's diagnosis several months before the trip, however, our dilemma had become whether to go at all!
---
Celiac.com Sponsor (A12):


---
---
Celiac.com Sponsor (A12-m):


---
As parents of a newly diagnosed celiac we had our own issues to deal with, and after many months of Jennifer being ill, we were all emotionally drained.  As her mom, I was determined to show Jennifer (and frankly myself as well) that her life would be "normal," even without gluten.  So began Jennifer's first sojourn as a celiac.

After doing some research I contact the executive chefs at each of the theme parks.  At this point I was still naive enough to think that someone at Disney's central reservations number would know these phone numbers.  It took several phone calls to discover that I needed to speak to Disney's "Special Requests Reservation Person."  Her name was Linda and she magically (no pun intended) began to make things happen.  She arranged for a refrigerator to be in the room at no extra charge, provided a brand new, still in the box, unopened toaster, and assisted me in making special gluten-free and lactose-free meal reservations sixty days in advance at full service Disney restaurants.  Perhaps most importantly, Linda provided me with the names and numbers of the (mysterious) executive chefs.  She also e-mailed the concierge at the Disney resort where we were staying and advised them they needed to get some gluten-free and lactose-free items in stock.  However, this was not in place when we arrived—which caused me to make an "unhappy Mouseketeer" phone call.  Shortly thereafter someone from guest relations at the resort went to Chamberlain's and brought gluten-free waffles, cookies, and Lactaid milk directly to our room.

So now everything seemed to be in place—well, you know what they say about the best laid plans!  As luck would have it, there was a lightning storm in central Florida the day we arrived which resulted in no natural gas for two days.  This became an excuse at several locations and a really good way to get me fired up, with or without the gas!  I made an early morning call to Brenda, the executive chef at the Magic Kingdom, who seemed genuinely upset at Jennifer's circumstance.  Thankfully the gas crisis was also over at this point.  She e-mailed all of the remaining restaurants, even if they were in Epcot or MGM, putting them on a sort of "alert."  Ultimately, this led to several chefs personally contacting either Jennifer or myself, which allowed us to pre-order her meals.

Even after this, there were still some rough spots but good help was available.  Marianne, the executive chef at MGM, was very helpful after Brenda contacted her.  She had done some work with the celiac support group in Orlando, and knew enough to try to coordinate Jennifer's meals at MGM so there was some variety.  Chef Wendy at the Prime Time Cafe was especially thoughtful in her service.  Although there is an executive chef at Epcot, the communication was weak and we had a less than pleasant experience trying to arrange for a much awaited gluten-free and lactose-free Mexican meal.  Ironically, the restaurant that was the most accommodating also had the least amount of advanced notice, and was the only place Jennifer chose to go to more than once—Spoodles on the Disney Boardwalk.  The chef was Damian and he really went out of his way to make a special dinner and a gluten-free and lactose-free fruit cobbler for dessert.

Magic Kingdom restaurants also deserve some accolades.  Cinderella's Royal Table served Jennifer a gluten-free and lactose-free breakfast that was fit for a queen.  Someone at Tony's Town Square hightailed it over to Adventureland to get a Dole Whip for dessert (there are two types; the one with no ice cream is gluten-free and lactose-free—yes, I called Dole beforehand).

Before leaving the Magic Kingdom if found out the following: The French fries at Casey's at the end of Main Street are gluten-free, as is the Magic Kingdom popcorn.  There is gluten-free ice cream at the Cone Shop on Main Street.  Last, several of the full service restaurants had Tofutti on hand for us.

My best advice would be to always speak directly to the chef—have some emergency rations on hand just in case—and consider renting a condo or room with a kitchenette. 

©A Personal Touch Publishing, LLC.  Donna's daughter Jennifer wrote "When You're A Teen" which appears in the book A Personal Touch On...™ Celiac Disease.