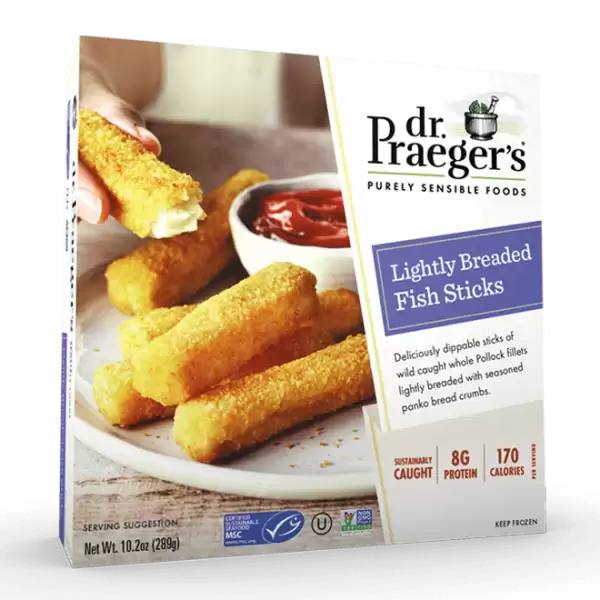 Celiac.com 07/30/2007 - When I was growing up, one of the favorite things for my brother and I to have for dinner was fish sticks served hot out of the oven along with our favorite French fries.
Sure, my mom made many healthy and nutritious meals. In fact, much to our chagrin, she favored healthy and nutritious meals, while my brother and I used to beg for things that tasted great and were sure to put a smile on our faces; like warm, crunchy fish sticks.
---
Celiac.com Sponsor (A12):


---
---
Celiac.com Sponsor (A12-m):


---
Even through college, every so often, when I was in need of a comfort food fix, I'd head to the store for a box of my favorite fish sticks and a bag of my favorite   French fries, careful to remember the requisite bottle of ketchup.

So, when I began to follow a gluten-free diet, I thought I'd never again know the joys of sitting down to a plate of piping hot fish sticks.

Fortunately, Dr. Praeger's feels my pain, and offers relief in the shape of tasty gluten-free fish sticks and fish fillets.

Dr. Praeger's fish sticks and fillets are tender, crunchy and fill of flavor.

Best of all, Dr. Praeger's fish sticks are gluten-free. So, next time you get   the hankering for the comfort of a plate of tasty fish sticks, don't let your   gluten-free get you down. Reach for Dr.   Praeger's gluten-free fish stick and fish fillets and satisfy your craving   for fish sticks which still honoring your gluten-free diet.