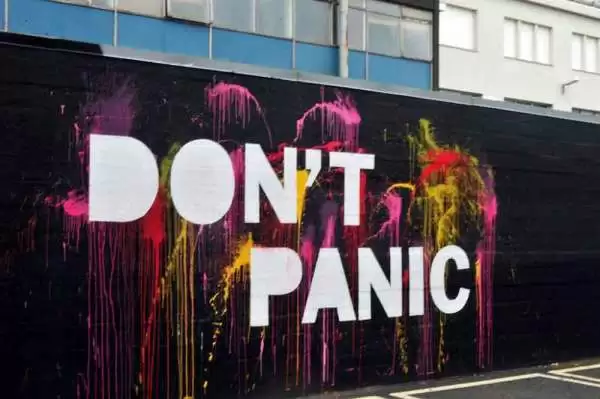 Caption: Don't Panic! Image: CC BY-SA 2.0--marc falardeau
Celiac.com 05/05/2020 - Experts are urging Covid-19 shoppers to leave gluten-free and dairy-free foods for medically needy celiacs, and others with real food intolerances.
In many areas, panicked shoppers looking to stock up as they wait out the Covid-19 pandemic are buying whatever is available, including gluten-free and dairy-free foods they may not need. In the process, they are clearing store shelves of items that other people need for medical or health reasons, leaving many without viable alternatives.
---
Celiac.com Sponsor (A12):


---
"One of the impacts of the coronavirus pandemic on grocery and categories is that customers are expanding their purchases well beyond their normal choices," said Kevin Sterneckert, chief marketing officer at Symphony RetailAI,  a marketing, merchandising and supply-chain solutions platform.

The problem is acute enough for advocacy groups like Allergy UK to launch an appeal for shoppers to be mindful of those who really need such products. The group shared the story of a mother who reached out to them after being unable to find dairy-free milk for her child who has an allergy due to pandemic-fueled bulk-shopping.

Carla Jones, CEO of Allergy UK, said her group is aware of the pressures faced by shoppers trying to prepare for uncertainty, but that they are "asking people to please consider the needs of a large group of people who do not have the luxury of choice."

Are you finding enough gluten-free and other specialty products in this pandemic? Share your story below.
Celiac and Gluten-Free Covid-19 Resources
Join Celiac.com's Forum Discussions