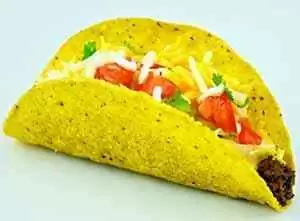 Caption: A finished ground beef taco. Photo: CC--TheCulinaryGeek
As a kid, the first tacos I ever had were far from traditional Mexican style tacos. The were much closer to the style of tacos later made famous by chains like Taco Bell and others. They were made with ground beef, lettuce, cheese, and tomatoes. If your kids are partial to the fast food version, they will likely love these little gems.

Ingredients:
1 tablespoon vegetable oil
½ cup of water
1½ pounds lean ground beef
2 cups shredded lettuce
2 cups diced tomato
1½ cups shredded cheese
½ cup chopped onion (as desired)
3 tablespoons taco seasoning (see recipe below)
10-12 crispy corn tortilla shells
Your favorite hot sauce or salsa, as desired.

Taco Directions:
Heat oil to medium heat in a large skillet.

Add onions (if desired) and cook until clear.

Add ground beef and cook until brown, draining away any excess oil.

Add water and bring to a brief boil, then reduce the heat to a slow simmer.

Add taco seasoning to taste. Add more or less as desired.

Allow the mixture to cook down for about 10 minutes or so until the water cooks off.

Remove from heat and serve meet in crispy corn tortilla shells. Garnish with lettuce, tomato and cheese.

Add your favorite hot sauce or salsa as desired.

Taco Seasoning Ingredients:
2 tablespoons ground chili powder
3 teaspoons ground cumin
2 teaspoons salt
2 teaspoons ground black pepper
1 teaspoon ground paprika
½ teaspoon dried oregano
½ teaspoon garlic powder
½ teaspoon onion powder
½ teaspoon dried red pepper flakes

Directions:
Mix ingredients in a bowl and place in a jar to use as needed.