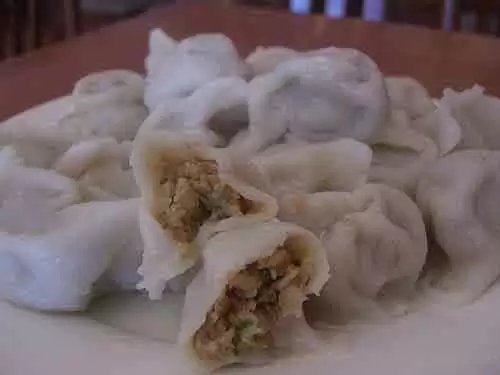 Caption: Gluten-Free Pork Dumpling Recipe (photo courtesy of avlxy2)
The following recipe is in it's most traditional form. However, don't be afraid to experiment. For example, try replacing the ground pork with chicken or  shredded cabbage and slivered carrots. Adding ginger or garlic will produce a spicier dumpling.  For those that are intolerant of corn, experiment with flours that you can use-I prefer tapioca or rice flour myself.  Don't forget to make sure all of you ingredients, including your soy sauce and spices are gluten-free.
Ingredients

1 bag (3-1/2 cups) gluten-free bread mix including yeast packet
¼  cup oil of your choice-sesame oil works well
1 ¼  cups warm water
1 pound ground pork
1 tablespoon corn starch 
2 tablespoons gluten-free soy or tamari sauce
6 green onions, chopped
1 teaspoons red pepper flakes-or to taste
pinch salt

To Make


2. On plastic wrap sprinkle reserved mix and roll out dough to 1/4-inch thick. Cut dough into 4-by-4-inch squares.
3. Mix pork ( or alternate ingredients) with corn starch, soy sauce, green onions, red pepper and salt. Place 1 to 2 tablespoons in the center of each square and fold dough over the top of the meat mixture. Place into lightly oiled steamer and steam 20 minutes.
4. Cook in batches until all dumplings are ready to serve.
5. For a  crispy dumpling, lightly fry your steamed dumplings in a pan with 2 tablespoons oil over med-high heat until brown.
6.Serve with soy sauce or your favorite dipping sauce.
7. Add a side of steamed rice, and some miso soup and dinner is served!