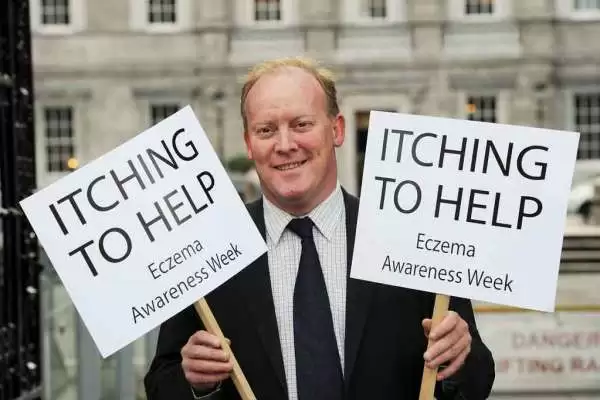 Caption: Eczema Awareness Week. Image: CC BY-ND 2.0--Conor Lenihan
Celiac.com 10/03/2020 - Did you know that eczema may be triggered by gluten?  Well it often is!  This is one of the most exciting and biggest breakthroughs my research into the harm caused by gluten.
A mum wrote to me: "I used to get eczema on my knees which cleared up on a gluten-free diet.  My mother knows when she has been contaminated with gluten as she gets eczema all over her arms, and my sister gets it on her neck.  It is strange that eczema is localized on different places for each of us!"
---
Celiac.com Sponsor (A12):


---
---
Celiac.com Sponsor (A12-m):


---
After beginning gluten-free eating, she recognized that gluten aggravated her eczema – and that it probably caused it in the first place.  She is not alone in her observations.  I have seen this myself and many others have told me similar stories.

I am a pediatric allergist and have investigated children with food allergies for 30 years.  I am also a gastroenterologist, and have studied children with celiac disease over all this time.  Naturally, I began to wonder if gluten was causing more harm than just producing gut damage: I wondered if it was also causing eczema?  I soon discovered that it was!

I noticed that many children who had celiac disease also had eczema.  And, when they went onto a gluten-free diet their eczema usually got better.  Of course I already knew about Dermatitis Herpetiformis  (an itchy skin condition provoked by gluten), but nobody had previously documented that gluten could cause eczema.

The next step was to test all my chronic eczema children for gluten reactions.  And guess what!  I found that 75% of these children with eczema had an abnormal gluten blood test (their IgG-gliadin antibodies were high).  Logically, I suggested that these children try a gluten-free diet.  They did, and they got very much better.  This excited me.  I used to struggle to help these children who suffered with itching, bleeding skin and disturbed sleep.  Now, when a child with severe eczema comes into my clinic, at last I can offer hope of a cure.  It has revolutionized my practice and the lives of these families.  

Yes! I have discovered that the majority of eczema in children (and adults) is triggered by gluten.  This is a staggering result.  Think of how many people are suffering unnecessarily from eczema that could be mostly cured by a gluten free diet.  Eczema is part of "The Gluten Syndrome" which comprises gut, skin and nerve problems caused by gluten.  I have written all about this is my new book "Eczema! Cure it!"  You can get this on the webpage.  Cheers, Dr Rodney Ford.