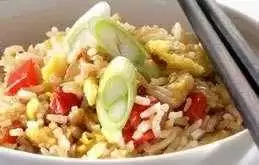 This recipe comes to us from "irish daveyboy" via the Gluten-Free Forum:
Ingredients:

1 tablespoon Groundnut Oil
1 Onion, diced
1 Green Pepper, de-seeded and diced
675g Cold Cooked Rice
2 Eggs, whisked
2 Tbls gluten-free Soy Sauce
Directions:
Heat a large frying pan over a high heat until very hot.
Add the oil and swirl around.
Add the onion and pepper and stir–fry for 3–5 minutes, or until softened but not colored.
Add the rice to the pan and stir around until it is mixed with the vegetables and heated through.
Push the rice away from the center of the pan, pour in the eggs, and stir until scrambled and set.

Once the eggs are scrambled, toss all the ingredients together, add the gluten-free soy sauce, decorate with sliced scallions and serve at once.