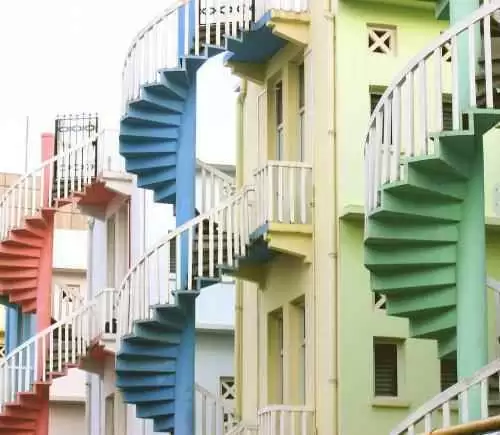 Caption: Photo: CC--helices_colors--cc--The Wandering Angel.
Celiac.com 10/25/2016 - Some potentially big news for people who suffer from enteropathy-associated T-cell lymphoma (EATL), an intestinal tumor that targets intraepithelial T lymphocytes. EATL may be preceded by refractory celiac disease (RCD), which resists treatment with gluten-free diet. In almost all cases, a range of the tumor cells express CD30.
RCD occurs in two types based on the absence (type I) or presence (type II) of abnormal intraepithelial lymphocytes (IEL) showing down-regulation of CD8 and often TCR gamma genes rearrangement. RCD II is now considered as a small cell intraepithelial T-cell lymphoma that could be an intermediate stage between celiac disease and EATL.
---
Celiac.com Sponsor (A12):


---
---
Celiac.com Sponsor (A12-m):


---
A team of researchers recently set out to establish the pattern of CD30 expression in EATL, which help to improve therapies with the use of anti-CD30 monoclonal antibody like brentuximab vedotin (BV). The research team included David Sibon, Georgia Malamut, Virginie Verkarre, Coralie Derrieux, Isabelle Radford, Bertrand Meresse, Elizabeth Macintyre, Christophe Cellier, Nadine Cerf-Bensussan, Nicole Brousse, and Olivier Hermine.

For their study, the team enrolled consecutive adult patients diagnosed with EATL between 2007 and 2013 in Necker University Hospital and Georges Pompidou European Hospital. The team confirmed celiac diagnosis using histopathologic and immunohistochemical review. For the purpose of the present study, two expert hematopathologists reviewed all EATL and extended the phenotypic analysis to reclassify them according to the 2008 WHO classification.

The team used a panel of antibodies directed against CD20, CD3, CD4, CD5, CD8, CD56, granzyme B and ALK1. They also performed CD30 staining with Monoclonal Mouse Anti-Human CD30, Clone Ber-H2 (Dako). As a control group, they used consecutive RCDI and RCDII cases with complete phenotype and clonality analyses diagnosed in the same period. They based celiac disease diagnosis on HLA-DQ2/8 typing, detection of celiac specific antibodies, and of villous atrophy with increased counts of IEL on normal diet. They classified patients RCDI or II, depending on their clinical and histological response to a gluten-free diet, and the presence of abnormal IEL.

In all 25 cases of EATL, large tumor cells strongly expressed CD30. In RCDI and II, CD30 was negative in most cases (∼90%), and was rarely expressed by dispersed atypical lymphocytes, whether in IEL or in lamina propria. TCR gamma genes were clonally rearranged in 11/14 (79%) EATL, 3/25 (12%) RCDI and 18/20 (90%) RCDII.

Based on their findings, the team began a pilot study in 2012. The pilot study combines BV with chemotherapy followed by autologous stem-cell transplantation (ASCT) as frontline treatment for EATL. The team has treated five patients to date. For chemotherapy, the the first two patients received IVE/MTX. After presenting their initial results at ASH 2012 Annual Meeting, the team replaced IVE/MTX with CHP regimen, and treated 3 more patients. Both treatments were well tolerated, and all 5 patients reached clinical remission, and underwent ASCT.

EATL type I strongly expresses CD30. Promising results from combining BV with CHP led the team to plan a phase 2 study of BV and CHP, followed by ASCT, as frontline treatment of EATL.

Source: