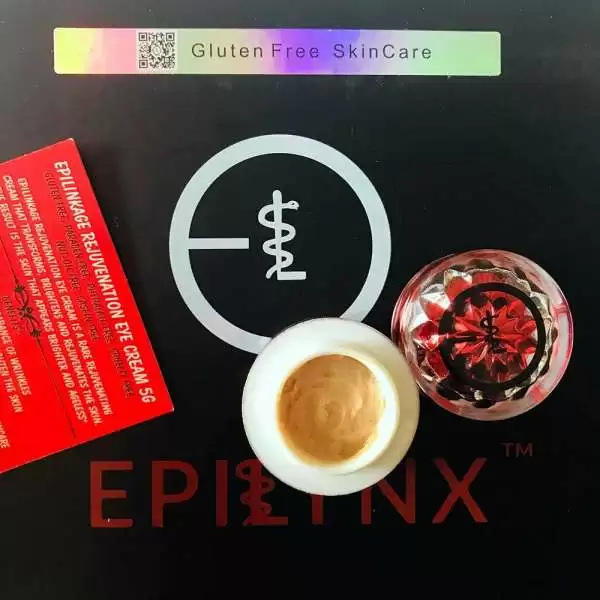 Caption: EpiLinkage Rejuvination Eye Cream by EpiLynx. Image: Mei Adams
Celiac.com 02/28/2020 - Most people know by now that EpiLynx by Dr. Liia makes a wonderful line gluten-free cosmetics that are specifically formulated for those who have gluten sensitivity, dermatitis herpetiformis, or celiac disease. 
Today we're reviewing their EpiLinkage Rejuvination Eye Cream, which is designed specifically to rejuvenate the skin under your eyes, protect it against wrinkles and dark spots, and to significantly brighten its appearance. 
---
Celiac.com Sponsor (A12):


---
---
Celiac.com Sponsor (A12-m):


---
EpiLinkage Rejuvination Eye Cream's premium and all natural ingredients include hyaluronic acid, niacinamide and ayurvedic.  The hyaluronic acid in this eye cream is under 500 kDa molecular weight for maximum skin penetration. According to EpiLynx by Dr. Liia, hyaluronic acid is "the main component of what gives your skin structure, and is responsible for that plump and hydrated look." 

This gluten-free eye cream is loaded with many other all natural ingredients like rosewater, horsetail, centella asiatica, burdock, helichrysum, mica, olive squalane, willow bark, passion fruit, ligonberry, blueberry, and geranium. Each has been carefully chosen for maximum effect, and you will notice the results. The dark circles that are usually visible under my eyes vanished after only two applications!

Like their other cosmetics, this eye cream is also lectin minimized, cruelty-free, paraben-free, nut oil-free, casein-free and phthalate-free. Simply apply a small amount under your eyes each night after washing your face and you will soon see positive results.

If you're the type of person who only wants to use only high quality, all natural, and gluten-free lotions to achieve the best anti-aging results, you can't go wrong with EpiLynx by Dr. Liia.

About EpiLynx by Dr. Liia:
Epilynx was founded by Dr. Liia Ramachandra, PharmD, PhD, who founded the company after her struggle with gluten sensitivity.

For more info visit their site.