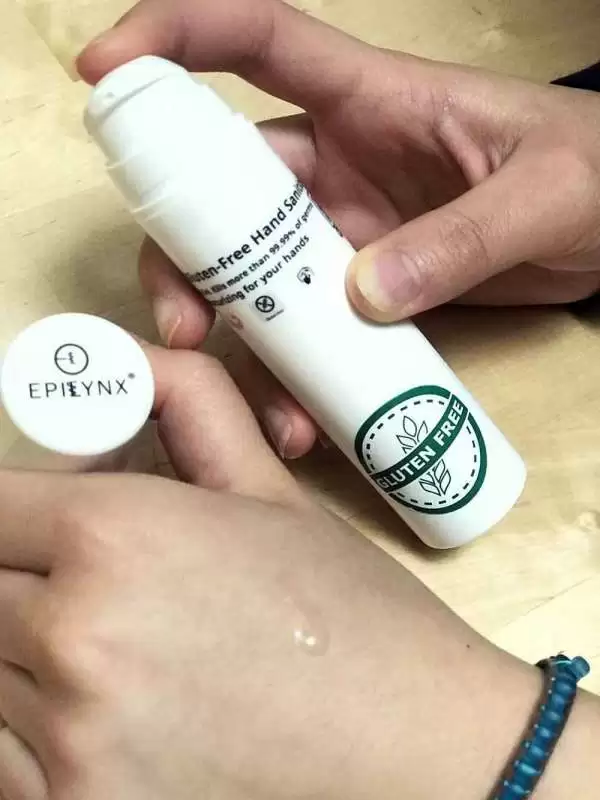 Caption: EpiLynx hand sanitizer. Image: Mei Adams
Celiac.com 05/20/2020 - After seeing her doors closed and her gluten-free cosmetic production stopped, due to coronavirus, a cosmetics entrepreneur is now making up to 1,000 bottles of gluten-free hand sanitizer every day to fight the coronavirus.
Sensitive to gluten, and facing difficulty in finding guaranteed gluten-free skin care products, Dr. Liia Ramachandra used her pharmaceutical background to found gluten-free cosmetics brand, EpiLynx.
---
Celiac.com Sponsor (A12):


---
After the Covid-19 pandemic shuttered her production facility, Ramachandra quickly retooled, and turned her efforts toward producing  gluten-free hand sanitizer.

Experts say most hand sanitizers do not contain gluten ingredients, are safe for those with gluten allergies. However, because many brands are not labeled gluten-free, some customers who are trying to avoid gluten for health reasons can become confused, and avoid them unnecessarily.

Faced with a closed shop, and a shortage of hand sanitizer, Ramachandra decided to switch to hand sanitizer. Being gluten-free herself, and specializing in gluten-free cosmetics, she decided to "start making [gluten-free] hand sanitizers," she told reporters. Using all-natural ingredients, she can produce up to 1,000 bottles of gluten-free hand sanitizer per day. 

Ramachandra's hand sanitizer is labeled 'gluten-free' and safe for people with celiac disease or other medical gluten intolerances. However, with hand sanitizer in short supply, Ramachandra is stepping beyond the gluten-free market to provide sanitizer to companies like the cleaning service Molly Maid.

Do you have any gluten-free Covid-19 stories to share? Comment below.

Read more at BusinessInsider.com