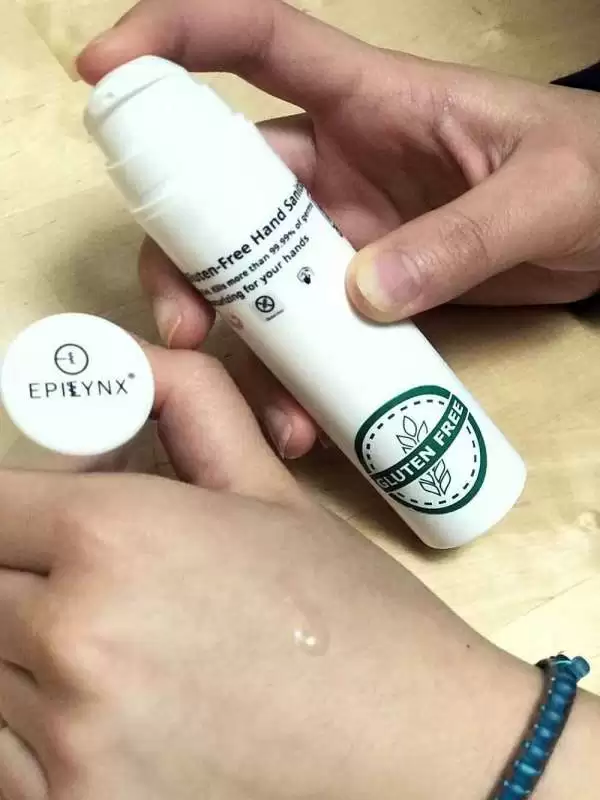 Caption: The 2 oz. bottle fits nicely in your purse. Image: Mei Adams
Celiac.com 04/10/2020 - Since EpiLynx by Dr. Liia is well known for making all natural, cruelty-free, and gluten-free cosmetics using only organic ingredients, I'll bet you didn't know that they also make an outstanding gluten-free hand sanitizer.
Just in time for dealing with covid-19, this hand sanitizer contains 70% alcohol, which is the magic number to deal with this coronavirus outbreak. According to the CDC, alcohol at 70% concentration will simply destroy the coronavirus that causes the covid-19 illness. In fact, it kills more than 99.99% of all germs.
---
Celiac.com Sponsor (A12):


---
---
Celiac.com Sponsor (A12-m):


---
Because it also contains moisturizers like aloe vera, hyaluronic acid, and vitamin E, it won't dry your skin, and it will actually help keep your hands stay soft and silky. The full ingredient list includes:
Isopropyl Alcohol, Ethyl Alcohol, Aloe Vera Gel (made by EpiLynx by Dr. Liia), Propylene Glycol, Hyaluronic Acid serum, Water, Willow bark, Gold/Silver Particles Mica.
The two ounce bottle that it comes in fits perfectly in your purse, your car's glove box, or in your desk at work. 
Dr Liia Ramachandra, PharmD, PhD directly oversees the production of this hand sanitizer in her Chicago lab, and EpiLynx by Dr. Liia is currently offering free shipping on all USA orders.
About EpiLynx by Dr. Liia:
Epilynx was founded by Dr. Liia Ramachandra, PharmD, PhD, who founded the company after her struggle with gluten sensitivity.
For more info visit their site.