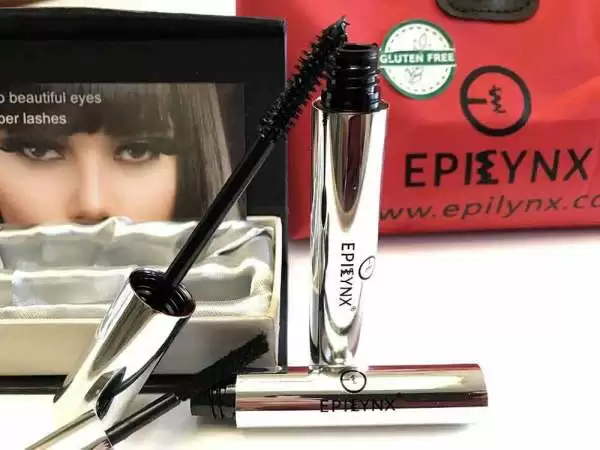 Caption: Image: Mei Adams
Celiac.com 01/17/2020 - EpiLynx makes an amazing line of gluten-free cosmetics aimed at those with celiac disease and gluten sensitivity, and today we're reviewing their Moodstruck Extreme 3D Fibers and Black Mascara. 
This product is unique for many reasons. It comes in two bottles, the larger of the two bottles contains the gel (Moodstruck black transplanting gel), and the smaller bottle contains the Moodstruck green tea natural fibers. This dynamic duo is designed to provide a 300% increase in thickness and volume to your eyelashes, while still looking 100% natural.
---
Celiac.com Sponsor (A12):


---
As with EpiLynx's other lotions, creams and cosmetics, these two items are made from high quality, all-natural ingredients such as collagen, propolis, Brazilian palm glue, black iron oxide, and 100% natural fibers taken from the complanulaceae of green tea.

Apply a thin coating of the Moodstruck black transplanting gel (the bigger bottle) and let it dry, then apply the Moodstruck natural fibers (smaller bottle). Your eyelashes will be instantly transformed into fuller, thicker looking lashes. Repeat this process until you're happy with the volume and thickness of your lashes, and tour new lashes will be waterproof, yet will wash off with warm water and a facial cleanser.

Anyone who is gluten sensitive should consider replacing any cosmetics that contain wheat with gluten-free versions, and certainly your mascara should be no exception. EpiLynx's gluten-friendly line of high quality cosmetic products make it simple for you to make this transition.

About EpiLynx:
Epilynx was founded by Dr. Liia Ramachandra, PharmD, PhD, who founded the company after her struggle with gluten sensitivity.

For more info visit their site.