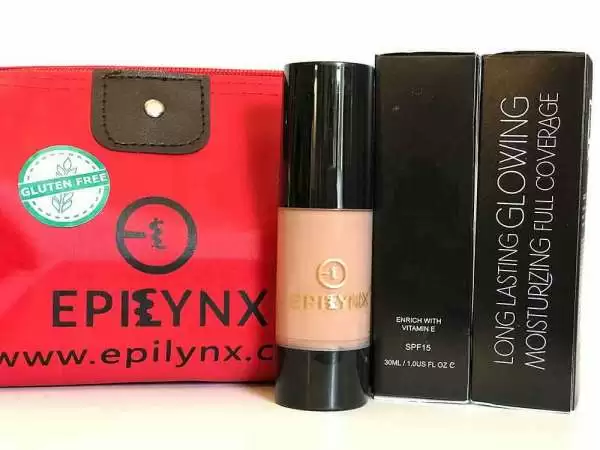 Caption: Shade #13 looks like coffee with cream. Image: Mei Adams
Celiac.com 05/21/2020 - If your face is like mine—not perfect—you may need to use a makeup foundation from time to time. If you're gluten sensitive, or have celiac disease like I do, then I recommend EpiLynx Long Lasting Glowing Moisturizing Full Coverage Gluten-Free Foundations, as they are 100% gluten-free and made specifically for those who want to avoid any gluten in their cosmetics.
With EpiLynx's huge line of 25 different shades of gluten-free foundations, you can dial in a color that is just right for your skin tone. During Winter I use a lighter shade #02, but in Summer, after I get a bit more sun, I need to use a darker shade—usually #03. 
---
Celiac.com Sponsor (A12):


---
---
Celiac.com Sponsor (A12-m):


---
Shade #13 is midway between their darkest shade #25, and their lightest #1 shade, and it's a nice light-brown shade whose color reminds me of coffee with cream. Even though it's darker than I normally use, for this review I tried it out and it gave my face a tan, healthier look that surprised me because of how natural it appeared.

The foundation comes in a handy pump bottle so application is a breeze, just pump a small amount on your fingers and spread if over your face evenly to give your skin a perfect looking complexion that is free of flaws.

EpiLynx foundations contain SPF 15 sun block and are enriched with Vitamin E, and like all of their products, they are made using all natural and gluten-free ingredients.

If your goal is to eliminate any possible sources of gluten, including those that touch your skin, and to use high quality cosmetics that contain the very best ingredients, be sure to check out EpiLynx and their vast line of outstanding gluten-free products.

About EpiLynx:
Epilynx was founded by Dr. Liia Ramachandra, PharmD, PhD, who founded the company after her struggle with gluten sensitivity.

For more info visit their site.