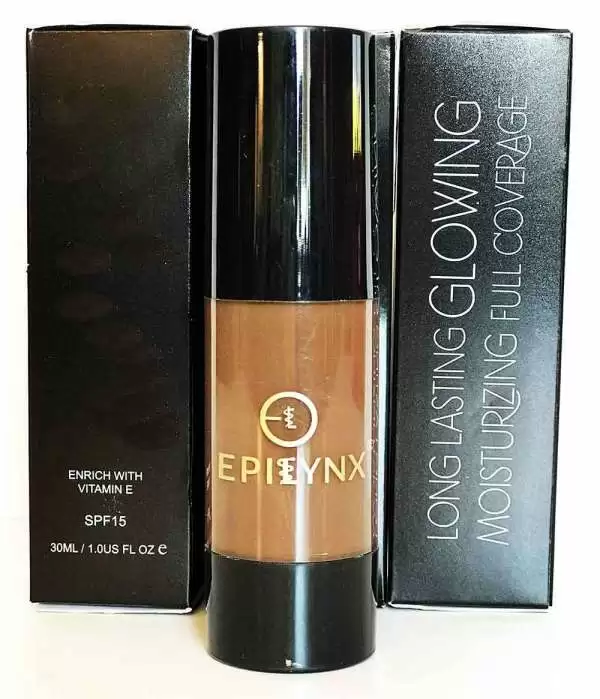 Caption: Shade #21 is a rich, dark brown color. Image: Mei Adams
Celiac.com 06/11/2020 - If you are gluten-free due to celiac disease, dermatitis herpetiformis, or gluten sensitivity, there is a lot to love about EpiLynx by Dr. Liia's large line of gluten-free makeups, cosmetics, lotions, moisturizers and other products. Given the fact that so many food companies have focused on making gluten-free products, it's about time that a cosmetic company has catered to this fast-growing community.
EpiLynx by Dr. Liia offers a vast line of 25 different shades of gluten-free foundation so you can perfectly match your skin tone. Applying the correct tone will make your face look more even and perfect, and the SPF 15 sunscreen and Vitamin E will help reduce wrinkles and keep your skin healthier.
---
Celiac.com Sponsor (A12):


---
---
Celiac.com Sponsor (A12-m):


---
Today's product review focuses on EpiLynx by Dr. Liia shade #21, which is designed for those with a dark brown skin tone. The rich color of this foundation reminds me of medium roasted coffee, and its all natural scent is wonderful. For those with a dark brown skin, finding a foundation to match it can be challenging, especially if you also expect it to be gluten-free and made using only high quality, all natural ingredients. 

This liquid foundation is simple to apply using its pump bottle, and it only takes a couple of drops to cover large areas of your face, and erase any imperfections to make your skin look perfect all day long.

Whether you are looking for gluten-free lip stick, eye liner, lip gloss, eye shadow, moisturizer, or foundation, EpiLynx by Dr. Liia has everything you need. With 25 different shades of Long Lasting Glowing Moisturizing Full Coverage Foundation to chose from, EpiLynx by Dr. Liia definitely has you covered!

About EpiLynx by Dr. Liia:
Epilynx was founded by Dr. Liia Ramachandra, PharmD, PhD, who founded the company after her struggle with gluten sensitivity.

For more info visit their site.