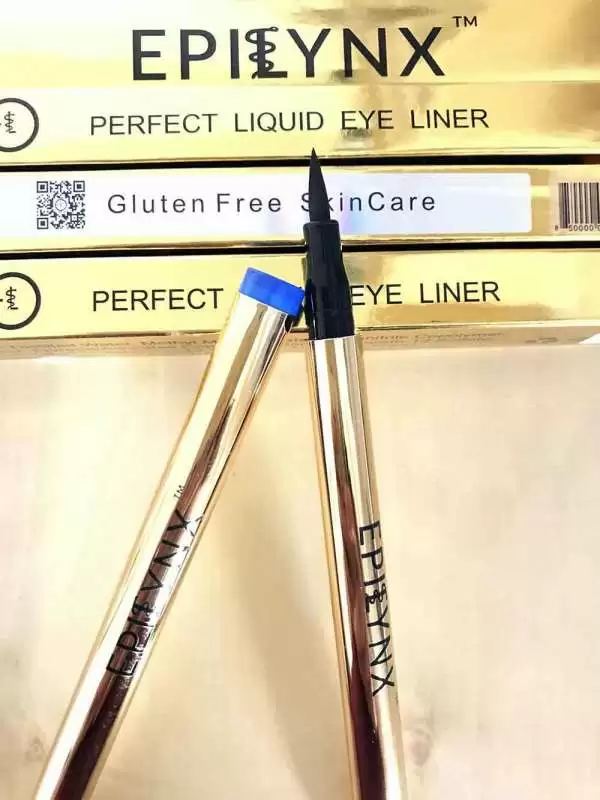 Caption: The blue shade of EpiLynx Perfect Liquid Gluten-Free Eyeliner is pictured here. Image: Mei Adams
Celiac.com 03/27/2020 - One of the most famous Jazz albums of all time is titled "Kind of Blue," by Miles Davis. Its name perfectly fits its blue, "cool jazz" sound, and this shade of eyeliner reminds me of that wonderful album. It's rich, deep blueness gives anyone wearing a certain mysterious look that you just can't put your finger on.
By now you've probably heard that EpiLynx is THE place to go for safe, gluten-free cosmetics that are made using only the finest all natural ingredients. They offer five shades of gluten-free eyeliner, but their blue shade is really special.
Do I Need to Worry About Gluten in My Eyeliner?
---
Celiac.com Sponsor (A12):


---
Some people say no, but that answer doesn't fly too far with those who are very gluten sensitive, have celiac disease, or dermatitis herpetiformis. For them even tiny amounts of gluten, over time, can add up and cause irritation, skin rashes, or worse.

Probably the best answer to this question is another question: If there is a high quality gluten-free version of any cosmetics that you use daily, why would you not use it instead of a version that contains gluten? After all, it's always best to play it safe, rather than to be sorry.

EpiLynx's Perfect Liquid Gluten-Free Eyeliners have a super-fine tip that makes them easy to apply, and removal couldn't be easier using just a basic makeup wipe.

If you're ready to change your look, and to make a leap and finally remove a potential source of daily skin contact with gluten, be sure to try their Perfect Liquid Gluten-Free Eyeliners...especially the shade that is Kind of Blue...

About EpiLynx:
Epilynx was founded by Dr. Liia Ramachandra, PharmD, PhD, who founded the company after her struggle with gluten sensitivity.

For more info visit their site.