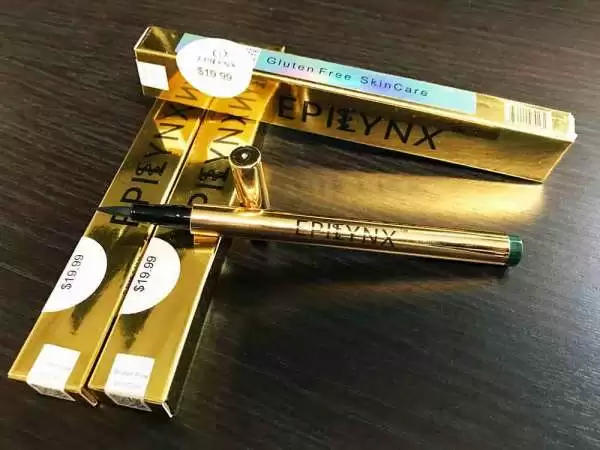 Caption: EpiLynx' Perfect Liquid Green Gluten-Free Eyeliner. Image: S. Adams
Celiac.com 03/13/2020 - Who doesn't love green eyeliner? How about a green eyeliner that is also gluten-free?
Finding gluten-free cosmetics can be tricky, which is why EpiLynx has stepped in to create an amazing line of safe, gluten-free cosmetics, including lotions, serums, lipsticks, lip glosses, and blushes.
---
Celiac.com Sponsor (A12):


---
---
Celiac.com Sponsor (A12-m):


---
Don't underestimate the effects that small amounts of gluten can have in those who have celiac disease, are gluten sensitive, or worse, those who have dermatitis herpetiformis. For some people even tiny amounts of gluten can cause itchy blisters, contribute to eczema, or cause other unsightly rashes and skin issues to develop.

Some people say that gluten in eyeliners or other cosmetics don't matter because you don't eat it. Do you believe this? If you have gluten sensitivity and have the choice of using an eyeliner with gluten, or one without, which would you choose? EpiLynx Perfect Liquid Gluten-Free Eyeliners, which are available in five colors, now make this choice simple for everyone, and we recommend that you always make the gluten-free choice.
Change it up with Green EpiLynx Perfect Liquid Gluten-Free Eyeliner
Green eyeliner will certainly change how you look, but in a really good way. It will make your eyes look larger by accentuating your lash line so that your eyes will really stand out. Be brave and switch it up once in a while! Give this wonderful green eyeliner a try. Like all of EpiLynx's eyeliners, the green version has a super-fine tip that makes it easy to apply, and removal is done easily with a makeup wipe.
About EpiLynx:
Epilynx was founded by Dr. Liia Ramachandra, PharmD, PhD, who founded the company after her struggle with gluten sensitivity.
For more info visit their site.