It has been a while since I've tried Tasty Bite products, so when their samples arrived a few days ago I was reminded of just how simple their products are to prepare—most require only 90 seconds in the microwave and they are ready to eat.  In addition to being very easy to prepare, most of their products are also gluten-free.  This combination makes them an easy choice when you want great gluten-free Indian Cuisine. 
I picked out the gluten-free Jaipur Vegetables from their other samples because I love this dish, which consists of slow cooked vegetable stew with paneer cheese.  In addition to being gluten-free their products also do not contain MSG or preservatives, and are a healthy choice because they contain a wide array of vegetables that are very nutritious. 
---
Celiac.com Sponsor (A12):


---
---
Celiac.com Sponsor (A12-m):


---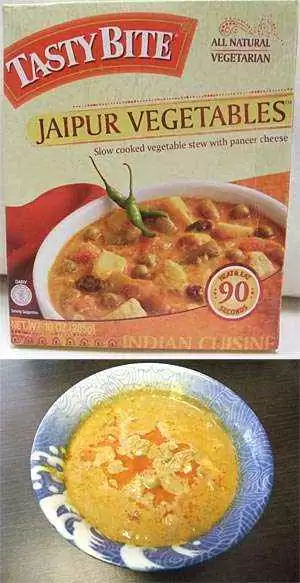 Modern food technology still amazes me—90 seconds after putting the gluten-free Jaipur Vegetables in the microwave it was ready to eat, and it tasted wonderful!  The vegetables were remarkably fresh tasting, and were cooked to perfection—this dish really tasted like something that would be served at a high-end Indian restaurant (without the high cost!). 

I would definitely buy Tasty Bite Jaipur Vegetables on a regular basis, as well as their other outstanding gluten-free Indian meals and side dishes. 

For more info visit: rel="external sponsored nofollow"www.tastybite.com.

 


Note: Articles that appearin the "Gluten-Free Product Reviews" section ofthis site are paid advertisements. For more information about this seeour Advertising Page.