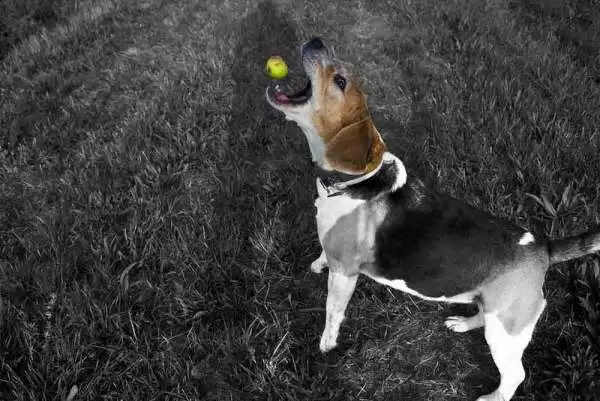 Caption: Dolly and the apple. Image: CC BY-SA 2.0--Alberto Ziveri
Celiac.com 07/16/2019 - In the same way that many people without celiac disease or gluten sensitivity have embraced gluten-free foods, grain-free and gluten-free dog foods have become popular with many dog owners in the last few years. Once a rarity, grain-free products now make up nearly half of the dog-food market in the United States. 
If you're one of the many dog owners who have switched to grain-free dog food in search of better health for your pet, you may be doing more harm than good. Some recent data suggest that removing grains from your dog's diet might pose a greater health risk than leaving them in.
The overall data is still thin, and it's based on corollary evidence between diet and heart disease in fewer than 600 dogs. The early evidence shows significantly higher rates of DCM in dogs that are fed a grain-free diet.
The FDA went so far as to name the pet food brands implicated in the problem. They listed the brands in descending order of suspicion as: Acana, Zignature, Taste of the Wild, 4Health, Earthborn Holistic, Blue Buffalo, Nature's Domain, Fromm, Merrick, California Natural, Natural Balance, Orijen, Nature's Variety, NutriSource, Nutro and Rachael Ray Nutrish.
The concern is that millions of dog owners who have shied away from conventional dog foods that include grains like rice or oats, out of concern in search of perfect health, may be putting their beloved pets at risk of an early and often fatal heart condition, DCM. 
Experts are continuing to assess the situation, so definitely keep informed as more information becomes available.
Read more in The New York Times