If you're looking to deliver a delicious, memorable and romantic dinner to your loved one, then look no further than this simple variation on traditional filet mignon.
This easy to make recipe tops filet mignon with a delicious wine-based sauce, and will have your snootiest diners cooing with delight at your culinary skills. The recipe calls for Burgundy, but any full-bodied red wine will work just fine.
---
Celiac.com Sponsor (A12):


---
---
Celiac.com Sponsor (A12-m):


---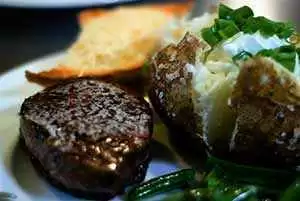 Ingredients:
2 (6 ounce) filets filet mignon
1½ cups Burgundy or other full-bodied red wine
1 cup gluten-free chicken broth
½ cup gluten-free beef broth
2 tablespoons unsalted butter, softened
1 tablespoon gluten-free flour or corn starch
2 teaspoons olive oil
2 shallots, chopped
2 cloves garlic, chopped
½ teaspoon fresh thyme
freshly ground black pepper to taste
Directions:
In a heavy sauce pan over high heat, combine wine, chicken broth and beef broth. Bring to a boil, and cook for about one hour, until mixture is reduced to about 1 cup. (You can do this a day ahead and keep covered in the fridge).
In a small bowl, mix butter and gluten-free flour or corn starch.
Heat 2 teaspoons olive oil in a large skillet over medium heat. Sprinkle steaks with salt and pepper, and sauté until medium-rare, about 4 minutes per side.
Move cooked steaks to a plate.
To the skillet, add shallots, garlic and thyme, and the reduced wine mixture to skillet. Bring mixture to a boil, making sure to scrape up and include any browned bits.
Whisk in butter mixture until smooth. Boil sauce until thick enough to coat a spoon, about 2 to 3 minutes.
Spoon sauce over steaks and serve with favorite side dishes or salad.