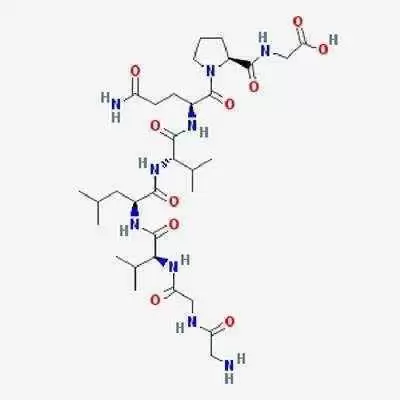 Caption: Image: Larazotide--NIH
Celiac.com 04/04/2016 - Any one eager to try the first approved treatment for celiac disease might not have to wait much longer.

Alba Therapeutics has announced that their celiac treatment, larazotide acetate, will enter the first Phase 3 clinical trials ever conducted in a celiac disease drug later this year.
Early research suggests larazotide acetate helps to keep the tight junctions closed when it's taken before a meal, thus stopping, or reducing the reaction and the resulting inflammation.
Larazotide acetate recently completed during phase 2b clinical trials for efficacy, safety and tolerability in 342 patients with celiac disease. Those trials showed larazotide acetate to be safe and effective in a "real world setting" for celiac patients, according to Alba's website.
The treatment is now headed to Phase 3 trials in "late 2016", and has received "fast track" designation from the Food and Drug Administration.
Alba has announced that Innovate Biopharmaceuticals Inc. has licensed all of Alba Therapeutics' assets related to larazotide acetate, and that larazotide acetate has been renamed INN-202.
If approved on schedule, INN-202 will become the first prescription medicine for treating celiac disease.
Source: