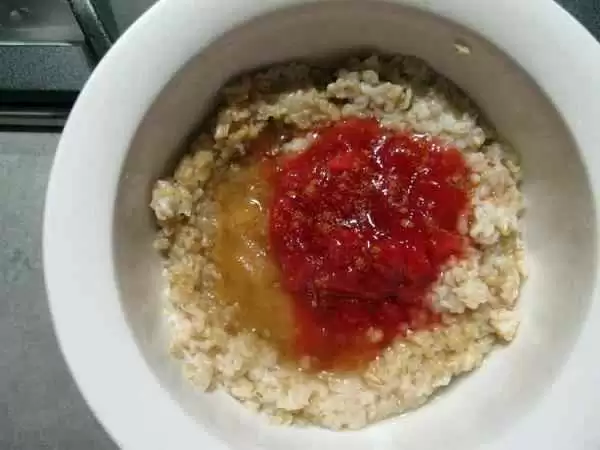 Caption: Image: CC--Karen
Celiac.com 08/10/2018 - You've heard for years that it's wise to start your day with a healthy breakfast.  Eating food first thing in the morning gets your metabolism revved so you have energy throughout the day.  There's also the issue of incorporating healthy foods into your first meal of the day.  Ideally, every meal should include fiber and foods from a variety of food groups.  But the reality is that most people don't have time in the morning to create an involved meal.  You're busy getting ready for work, packing the kids' lunches and trying to get everyone out of the door on time.  
Don't fret.  The task of preparing a healthy breakfast just got easier.  You can make 5-minute breakfasts and, with a little bit of planning, you can sneak fiber into those meals without spending a lot of extra time with preparation.  An ideal breakfast will include whole grains (from gluten-free cereals, breads, muffins, or uncontaminated oats), a low-fat dairy item (1% milk, low-fat yogurt, or low-fat cheese), and a source of protein (such as peanut butter or eggs).  Adding fruit is a plus.  
---
Celiac.com Sponsor (A12):


---
---
Celiac.com Sponsor (A12-m):


---
If you can tolerate uncontaminated oats, make a bowl of oatmeal and add a little extra fiber by stirring in chopped walnuts and dried cranberries.  If you like scrambled eggs, toss some fresh spinach (sliced into thin strips), 1 chopped canned artichoke heart, two tablespoons crumbled feta cheese, and a dash of Italian seasoning to the egg as it cooks.  
If you have time on weekends to make healthy gluten-free pancakes (which  means that you added perhaps flax seed meal or shredded apples or something that qualifies as fiber to the batter), then freeze the pancakes between sheets of wax paper, place them in a freezer bag, and freeze so they'll be handy on busy weekday mornings.  If you don't have time to make them prior to need, you can always use commercial frozen gluten-free pancakes.  In a bowl, mix together a few raisins, half of a chopped pear or apple, a few dashes of cinnamon and a couple of tablespoons of chopped walnuts.  Spoon this mixture down the centers of two toasted (or microwaved) pancakes, drizzle each with 1 teaspoon of pancake or maple syrup, then fold in the sides of the pancakes to make two breakfast sandwiches.

Brown rice is brown because the bran layer is still on the rice, and the bran layer is the part that's so high in fiber.  White rice is much lower in fiber and has less nutritional value.  Brown rice isn't just for dinner anymore.  It offers a nice breakfast alternative from traditional hot cereals.  The next time you make brown rice for dinner, make a little extra and save some for breakfast the next morning.  In the A.M., mix the rice (about 1 cup) with a few chopped pecans, a few raisins, 1/2 cup milk, 3 tablespoons pancake syrup, a dash each of vanilla and cinnamon, then microwave the mixture for 1 minute, stirring once after 30 seconds.  Let it sit for 30 seconds to thicken before eating.  Or stir together 1 cup cooked brown rice, 1/4 teaspoon cinnamon, 1/2 navel orange diced, some chopped dates, dried cranberries, and shredded coconut; heat this in the microwave and then top it off with 1/2 cup low-fat vanilla yogurt.

Just a note about using the microwave—it's not an exact science.  Different ovens have different power levels so what cooks in 30 seconds in one person's microwave may take 45 seconds in someone else's unit.  Unless you want the food to splatter all over the sides of the oven, you'll need to cover any liquids or soft foods with waxed paper.  

There will be days when you don't have time to sit down at the table and enjoy a leisurely breakfast.  On these days, make a "grab-and-go" breakfast that you can take with you.  Gluten-free wraps keep for several weeks in the refrigerator and they make great fill-and-go containers on busy mornings.  Spread a wrap with peanut butter, sprinkle some fortified gluten-free dry cereal on top, then drizzle with a teaspoon of pancake syrup; roll up the wrap and you have the perfect dashboard dining breakfast to eat on the way to work.  Or scramble an egg, spoon it down the center of the wrap, and then top it off with a little salsa and pepper-jack cheese before rolling it up. If you only have three minutes before you have to leave the house, spoon some low-fat cottage cheese into a cup, stir in a dash of cinnamon, top with a little low-fat gluten-free granola or fortified dry gluten-free cereal, sprinkle berries or chopped peaches over the top, grab a spoon, and you're ready to go!

Smoothies can be made in literally one minute.  Toss some frozen raspberries into a blender, add a 12-ounce container of low-fat lemon yogurt, a little milk, and two teaspoons of vanilla; blend, then pour the mixture into a large plastic cup.

If you oversleep, don't panic.  Have some back-up foods on hand that you can grab and eat en route to work, like a gluten-free protein bar and a banana, or a bag of nuts and dried fruit, or flax seed crackers with a handful of cheese cubes, or toss some gluten-free granola over a container of yogurt and grab a spoon to take along.

All of the above suggestions can be made in five minutes or less.  Take the time to start your day off with a healthy breakfast—you deserve to do that for yourself and for your family.

Apple English Muffins by Connie Sarros

This recipe is from my newly-released book Student's Vegetarian Cookbook for Dummies.  While this isn't a gluten-free cookbook, most of the recipes are naturally gluten-free or can very easily be converted to gluten-free.  

Preparation time:  4 minutes.  Cooking time:  30 seconds.  Yield:  1 serving

Ingredients:
1 tablespoon peanut butter 
1 gluten-free English muffin, toasted 
1/8 large apple, peeled, cored and sliced thin
½ teaspoon butter 
¾ teaspoon brown sugar
1/8 teaspoon cinnamon
Directions:
Spread peanut butter on one toasted English muffin half.  Lay the apple slices on top.
In a small microwave safe bowl, heat the butter in the microwave on high for 15 seconds.  Stir in the brown sugar and cinnamon then nuke for another 15 seconds.  Stir until smooth.  (If necessary, pop it back into the microwave until the brown sugar melts).  
Drizzle the cinnamon mixture over the apple slices then place the second half of the English muffin on top.
Note:  If you're out of apples, use a pear, ripe peach or nectarine, mango, or even a banana.