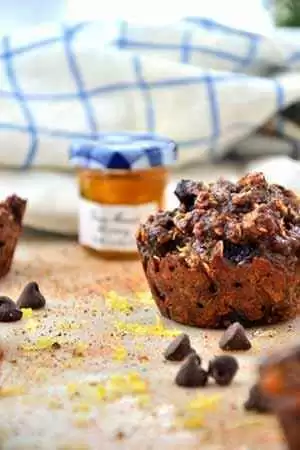 For a fun spin on these cupcakes - I made them with almond butter and pistachios on my blog.
Gluten-Free, Grain-Free and Dairy-Free.
---
Celiac.com Sponsor (A12):


---

Ingredients:
10 large eggs
3 oz. baking chocolate such as Green & Black
½ cup dark chocolate chips
¼ tsp. sea salt
2/3 cup sugar
2 cups cashews, finely chopped
1 ½ tsp. almond extract
½ cup sugar
¼ cup cashew butter, for serving
Instructions:
Preheat the oven to 350 degrees F. Prepare cupcake tins with nonstick baking spray.
Separate eggs into large small bowls; one for egg yolks and one for egg whites.
In a small saucepan, melt baking chocolate and dark chocolate.
Meanwhile, beat the egg yolks on medium-high speed until and thick, approximately 7 minutes. Reduce speed to low; add sea salt and 2/3 cup granulated sugar until mixture becomes thick and creamy, approximately 8 minutes. Add melted chocolate and cashews; continue to beat with mixer on low speed.
Add almond extract to the large bowl of egg whites. Beat until foamy, approximately 3 minutes. Add 1/4 cup sugar; beat on high speed until soft peaks form, approximately 5 minutes.
Fold egg whites into the chocolate mixture.
Divide the batter evenly among cupcake tins. Transfer to the oven; bake for 15-20 minutes or until a toothpick inserted in the center of each cupcake comes out clean.
Remove from oven; set aside to cool on baking racks.
Slice each cupcake in half. Serve warm with a spread of cashew butter for a healthy spin on sugary icing.