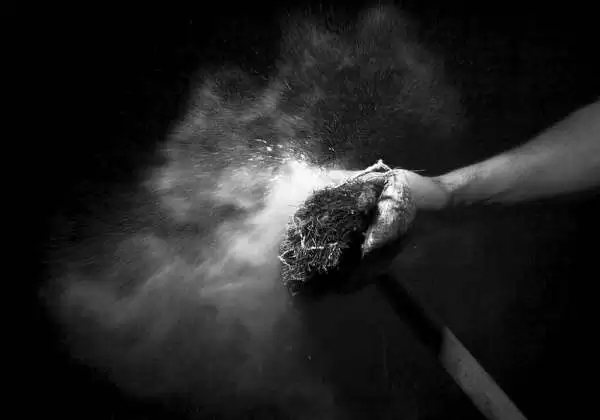 Caption: Cleaning a broom covered with flour. Image: CC BY-ND 2.0--SmithGreg
Celiac.com 01/11/2020 - Life used to be so much simpler. Fifteen years ago, when a celiac used an "alternative flour mixture", it meant sifting together white rice flour, potato starch, and tapioca flour. The kitchen got dusted with flour as you sifted the blend together, but you never had more than three different kinds of flour to store. Today, the alternative flour choices are almost endless… and confusing. 
There is no one alternative flour that can duplicate the properties found in wheat flour.  That's why it's necessary to combine different flours together. Each one has its own unique properties. When you better understand what each flour contributes to a mix, it makes it easier to decide which flours to use.
---
Celiac.com Sponsor (A12):


---
---
Celiac.com Sponsor (A12-m):


---
Just to confuse things a bit more, different flour mixtures are better for different baked goods. While sorghum flour is excellent to use when making bread dough, cornstarch can work well for some cookies. Nut flours add flavor and fiber, but millet is easier to digest. 

The easiest way around all this is to come up with one flour mixture that works well for you. Measure, sift together, and store it in a self-seal bag in the freezer (so it doesn't get rancid) and it's ready to use when you get the urge to bake. Then, if your recipe calls for 2 cups of flour mixture, use 1 ½ cups instead and substitute the other half cup with sorghum flour when making bread, or with cornstarch when making cookies. 

Do you remember how easy it used to be to open up a bag of wheat flour, spoon it into a canister, then set the canister on your kitchen counter and leave it for a year, using the flour as needed?  Unfortunately, many of the alternative flours will turn rancid after a couple of months at room temperature. This change won't be noticeable, but your baked products just won't taste the same… or as good. The alternative flours do not freeze to a solid state, so blend your mixture, and then keep it in the freezer to prolong its life.

Understand that spelt is NOT gluten-free. Many people who work in health food stores are very aware of this, but some are not. Occasionally you will even find some stores selling spelt bread in the gluten-free section. As a celiac, you need to be aware of what you can and cannot consume.

Flour settles and compacts when it is stored. Before measuring flour for a recipe, whisk it to aerate it, then lightly spoon the mixture into a measuring cup. Don't use the measuring cup as a scoop because you can get between 10% to 20% more flour that way, and that will definitely affect the moistness of the finished baked product.

Duplicating the taste and texture of wheat flour is possible, though challenging. Wheat flour has gluten which creates elasticity. Lack of gluten can lead to a heavy, dense texture… but not necessarily. If you choose the right alternative flours and play a few tricks with the dough, you can create a baked product that is every bit as tasty, light, and airy as any gluten product.

Let's examine what each of the different flours adds to dough, starting with the basic rice flour. White rice flour has a sweet, very mild taste, but negligible nutritional value. If you use this flour, try to use the most finely-ground brand you can find to avoid a gritty taste. Asian markets often carry finely-ground rice flour. Brown rice flour still has the bran layer intact so it's higher in B vitamins, iron, and fiber. Both rice flours tend to be dry so it's best to combine them with flours that help retain moisture.

The next two most common flours used are potato starch (not to be confused with the thickener potato flour) and tapioca flour. Both are white and both have a very unique feel to the flour. Potato starch adds moisture and chewiness, which makes it perfect for cookies, and it can tolerate high temperatures. The moisture in potato starch helps to balance the dryness in rice flour. Tapioca flour (or tapioca starch) is made from the dried starch of the cassava root. It is mildly sweet and helps baked goods to brown and to have a crisp texture. This flour thickens when it is heated with a liquid, making it the perfect choice for thickening puddings and fruit pie fillings.

The varieties of bean flour available are increasing constantly. Originally, there was fava bean flour, garbanzo bean (or chi chi bean) flour, or a combination of the two called garfava flour. Now you can find lentil flour, mung bean flour, pea flour, black bean flour, white bean flour, mesquite bean flour… and the list goes on. Beans are high in fiber and high in carbohydrates (the good kind of carbs). The flour retains moisture, giving baked goods a lighter texture. Be careful not to use too much bean flour as it can give baked goods a metallic taste and can definitely contribute to flatulence.

Nut flours have become very popular because they add both nutrition and flavor to baked goods. They are high in protein, low in carbs, and add a wonderful crunchy texture. They cook more quickly and are more likely to burn when used alone, so it's best to combine the nut flours with the traditional gluten-free flour mixture. Almond flour (or almond meal) adds moisture and flavor. Cashew flour and chestnut flour both have a toasty, slightly sweet taste. Hazelnut flour adds moisture and flavor. And pistachio flour is a wonderful choice when making desserts. Coconut is actually a nut from the palm family. Coconut flour adds a delicious taste and is very high in fiber. When using this flour, add a little extra liquid because coconut flour will absorb more moisture than most flours.

Sorghum flour is fairly new to the limelight. It is made from sorghum berries and has a light, sweet, nutty flavor. The beauty of using this flour is that it adds an 'almost-like-real-wheat' texture to breads. 

Then there are the flours that have more nutritional value than rice/potato/tapioca flours. Amaranth is high in both fiber and protein. It has a sweet flavor but the flour retains a lot of moisture. If you opt to use this flour, use about 2 teaspoons per cup of traditional flour mixture. Buckwheat flour comes from an herbal plant that is related to rhubarb. While it has fiber and nutrients, it has a strong, musty flavor that may take some getting used to. It also absorbs oil so you may need to add more oil to your batter to get the right consistency. Corn flour or cornmeal can be another addition to breads and muffins because of its slightly sweet flavor that will cover up any aftertaste from the rice flour mixture. If you are using a corn-based flour, it is worth paying a bit more to get very finely ground flour; the degree of 'fineness' will determine if the finished product is gritty or smooth tasting.

Other flours that offer more fiber and nutrients include oat flour (made from uncontaminated oats). Oat flour has the second highest protein content of any grain flour. Sweet potato flour is now sold on amazon.com and is high in nutrients. Soy flour has become more widely used, though it has a slightly bitter flavor. It is low in carbs and browns very easily, so use it sparingly in addition to a regular gluten-free flour mixture. Teff flour also falls into the 'more nutritious' category. It is available in natural brown (stronger taste) and ivory (milder taste) varieties. It has a mild, nutty flavor, and adds moistness to batter (so it's good to use this flour in combination with flours that absorb moisture). Teff has the highest calcium content of any grain flour. Quinoa (pronounced keen-wa) flour is gaining in popularity. The nutty flavor can be almost overpowering when used alone, but when combined with other flours, it helps to retain the moisture. Quinoa flakes often work better than using the flour when baking.  Finally, in the category of more nutrients and more fiber, there is flaxseed meal. Whether you buy the dark meal which has a bolder nutty taste, or the golden meal which is so mild it is almost tasteless, you will be getting a product high in Omega-3 fatty acids, very high in soluble fiber and lignans, plus the added benefit that flax (like eggs) help gluten-free baked goods to be lighter in texture.

Arrowroot flour and millet flour are both high in fiber. Their forte is that they are both very mild on the stomach. If you are making teething biscuits for a baby or a baked good for an adult who has trouble digesting food, these two flours are excellent choices. Millet is the least allergenic of all of the alternative flours. It has a slightly sweet, buttery taste, but the surface of a product made with millet tends to dry out more than when it is used in combination with other flours are used.

One of the major complaints about gluten-free flour mixtures is their lack of fiber. I have created my own high fiber gluten-free flour mixture and have used it to bake everything from bread to cookies and cakes, to pie crusts and cream puffs. To the best of my knowledge, it has more fiber and more nutrition than any other flour mixture… and far more taste. If the recipe you are using lists xanthan gum as an ingredient, you will not need to add it since the recipe below already includes the xanthan gum.
High Fiber Gluten-free Flour Mixture
This mixture has 4.12 grams of fiber per 1/4 cup flour mixture.
Ingredients:
2-1/2 cups brown rice flour
1-1/2 cups sorghum flour
1 cup potato starch 
1 cup tapioca flour
1 cup coconut flour
3/4 cup garbanzo bean flour
2/3 cup golden flaxseed meal
1/4 cup cornstarch
3 tablespoons xanthan gum
Directions:
Yield:  7-3/4 cups
Sift all the ingredients into a bowl, then whisk the ingredients with a wire whisk to assure that everything is blended evenly.
Per 1/4 cup—Calories: 142; Total fat: 1.6 g; Saturated fat: 0.2 g; Cholesterol: 0 mg; Sodium: 1 mg; Carbohydrates: 29.1 g; Fiber: 4.12 g; Sugar: .08 g; Protein: 2.9 g.