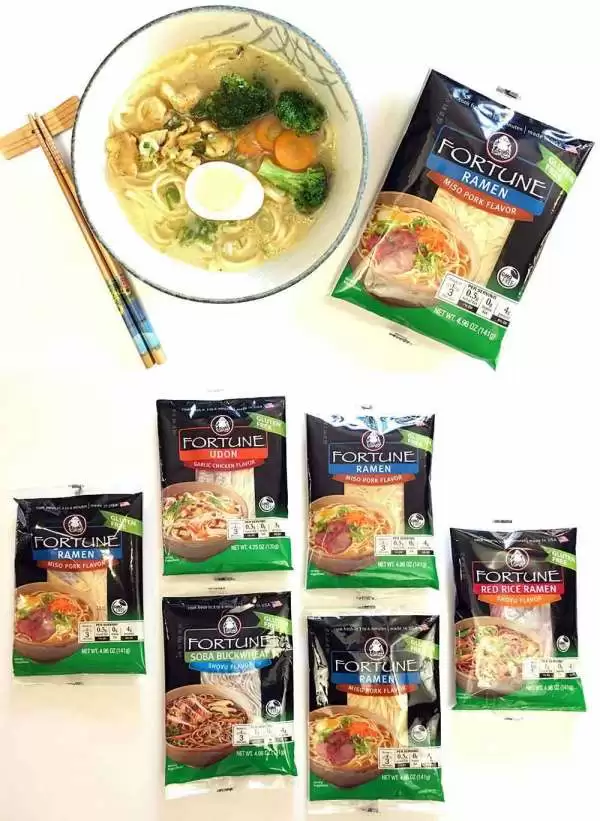 Caption: Fortune Partially Cooked Gluten-Free Noodles.
Celiac.com 08/22/2019 - One thing I've missed dearly since going gluten-free almost 25 years ago are udon and ramen noodles. I used to love eating both, and until now, haven't discovered a proper substitute for either.
All that changed when my shipment of Fortune brand noodles arrived. Finally I can have a bowl of proper gluten-free udon noodles, soba buckwheat noodles, or ramen noodles! 
---
Celiac.com Sponsor (A12):


---
---
Celiac.com Sponsor (A12-m):


---
Fortune makes the following four varieties of easy-to-prepare gluten-free noodles, and each includes a flavor packet and can be prepared in just a few minutes:
Udon Garlic Chicken Flavor
Soba Buckwheat Shoyu Flavor
Ramen Miso Pork Flavor
Red Rice Ramen Shoyu Flavor
All four flavors were outstanding, and after cooking the noodles per the directions on the package, each came out perfectly. The noodles were just like I remembered and had a chewy, elastic texture that instantly brought back memories that I thought were gone forever. 
I added my own vegetables and meat to each, and in just a few minutes I had a meal that tasted like something from a fine Japanese restaurant. The Soba Buckwheat noodles, in particular, reminded me of the pure buckwheat soba noodles that I had in a restaurant a couple of years ago while on a trip to Japan.
There are also stir fry directions for those who prefer to eat their noodles in a dry, stir fried style. 
I was also glad to discover that these products were made in the U.S.A.
You can find Fortune Gluten Free Noodles in the Dry Asian section of your grocery store.
For those who miss Asian noodles as much as I did, your ship has finally arrived!
Visit their site for more info.