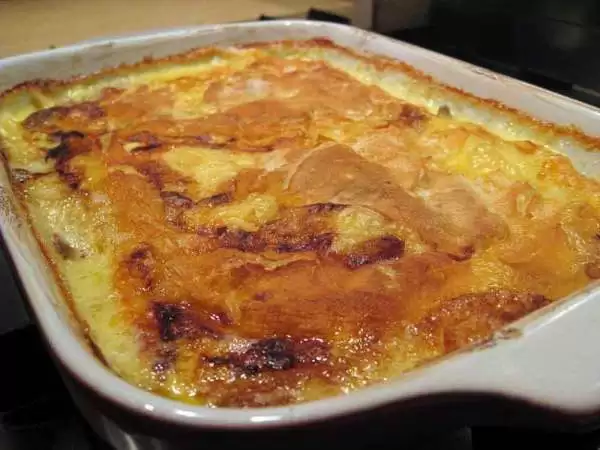 Caption: Image: CC--dutchgrub
Celiac.com 06/08/2019 - Are you looking to turn some gluten-free cooking corner? Are you looking to absolutely crush it for your next special dining occasion? Then I encourage you to consider the tartiflette, an undeniably French contribution to sumptuous eating. In the tartiflette, potatoes, bacon, onions, more potatoes, maybe some garlic, and some delicious soft cheese come together to deliver culinary perfection. The result is a cheesy, baconey, potatoey, oniony gluten-free delight that is sure to have people gasping in delight and asking how you did it.
This recipe comes via the excellent Chef John over at FoodWishes. Commentor Vladimir Nachbaur says the secret to the dish is "scrubbing the dish with garlic before laying the potatoes in it. In fact I believe garlic is usually a big part of this dish and I usually add finely diced garlic to the onions, but maybe that's just my take on it!"  
---
Celiac.com Sponsor (A12):


---
---
Celiac.com Sponsor (A12-m):


---
I'm keen to try it, and definitely ready to add a dash of garlic for luck. For an excellent video presentation, try Chef John's YouTube channel.

The ingredients for Chef John's about 8 portions:
butter for greasing casserole dish
3 pounds russet potatoes, cooked with skins on, in salted water
12 ounces thick-cut bacon, cut into 1/2-inch pieces
2 large onions, sliced thin
salt, freshly ground black pepper, and cayenne to taste
1⁄2 cup drinkable white wine
3/4 cup crème fraiche
1 pound Reblochon cheese, or something similar like Dancing Fern
Directions:
Cook at 375 Fahrenheit for 45 minutes, or until potatoes are very tender.