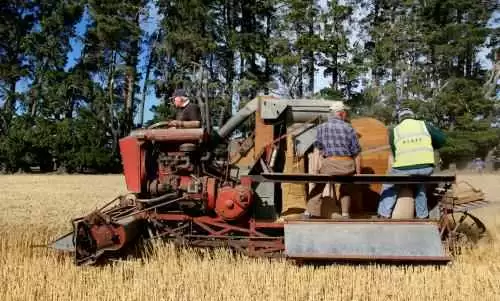 Caption: Photo: CC--Bernard Sprague. NZ
Celiac.com 11/03/2017 - Talk about finding needles in a haystack. Imagine, if you will, sifting through rail cars full of oats and plucking out nearly every stray grain of wheat, barley or rye so that the final product tests at under 20 ppm, instead of the original 200 ppm to 1,000 ppm.
Quite a challenge, yes? It's a challenge General Mills take on every day as it produces Gluten Free Cheerios from raw oats into the final product. According to their website, General Mills ships 500,000 cases of Cheerios each week.
---
Celiac.com Sponsor (A12):


---
---
Celiac.com Sponsor (A12-m):


---
To do this, General Mills uses a proprietary optical sorting process, for which it has filed a patent with the US Patent Office. That process sifts through those rail cars of oats, with stray gluten ranging from 200 ppm to 1,000 ppm, and "takes it down to less than 20" ppm, said Paul Wehling, principal scientist for General Mills.

Mr. Wehling told audience members at the annual meeting of AACC International at Cereals 17 in San Diego on Oct. 9, that the General Mills sorting process achieves a "2- to 3-log reduction of the gluten."

To verify their oat sorting results, General Mills uses enzyme-linked immunosorbent assay (ELISA) testing and visual inspection to spot and eliminate gluten-containing grains such as wheat.

The company uses hand inspection in place of lateral flow testing, as they find that "hand inspection is much more efficient because we can look at quite a few more seeds," Mr. Wehling said.

That process would seem to be validated by Laura K. Allred, regulatory and standards manager for the Gluten Intolerance Group, Auburn, Wash., which recommends companies use a combination of visual testing and ELISA testing.

However, the General Mills process is not without critics. One of the more prominent voices in opposition to General Mills has been the Canadian Celiac Association (CCA).

The CCA has made numerous statements questioning the process General Mills uses to create their Gluten-Free Cheerios, and other oat products.

CCA statements, or statements attributed to the CCA include comments in an article published in October 26, 2017, in which Globalnews.ca writes "[CCA] expressed doubt in the company's mechanical sorting system and claim of 100 per cent removal of cross-contaminants."

Candiangrocer.com reported in August 2016 that the CCA was, to paraphrase, "awaiting evidence showing the new line [of Gluten Free Cheerios] is 100% free of gluten." It is unclear what the CCA means by such terms as "100% gluten-free," "100 percent removal," and "100 percent safe for people with celiac disease."

Is the CCA hinting that the standard for gluten-free products should be 0 ppm?

Besides voicing fear and concerns, and citing alleged complaints by members, the CCA never actually provided any evidence that Cheerios failed to meet the US and Canadian standard of 20 ppm allowable gluten, and were, thus, not gluten-free.

The CBC reported on August 31 2016, that the "Canadian Celiac Association is warning against gluten-free Cheerios products over concerns the cereal is not 100 per cent safe for people with celiac disease."

Again, the CCA made this recommendation based not on independent product testing, or on any confirmed accounts of gluten-exposure in people with celiac disease who had consumed Cheerios, but on "fear" and "concerns" driven by anecdotal evidence. Moreover, they seemingly disregarded overwhelming anecdotal evidence provided by people with celiac disease who say they eat Cheerios safely. The CCA has yet to provide a satisfactory response for their warnings, or to provide any clarification of their position regarding the safety of products that test under 20 ppm gluten for people with celiac disease.

The FDA recently announced that 99.5% of products tested came in under the 20 ppm standard set by the FDA for labeling a product "gluten-free." In fact, only one of 750 samples taken from 250 products tested above 20 ppm. That product was recalled and the manufacturer corrected the problem. There has been no indication the Cheerios tested outside the FDA's gluten-free standard.

That means that even an ambitious sorting process like the one developed by General Mills seems to be working as designed. It means that consumers can trust the FDA, and American gluten-free labels, and that consumers of gluten-free foods can buy with confidence.