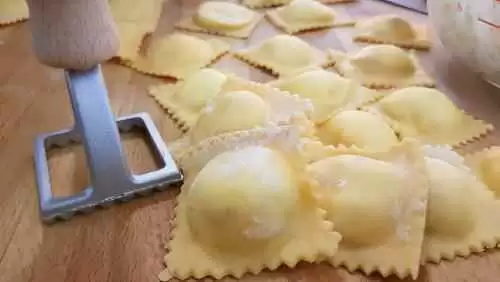 Caption: Photo: CC--Waferboard
Celiac.com 12/26/2017 - Because gluten is vital to the texture, structure and stretch of pasta, replicating pasta without gluten is especially difficult. It's even harder for fresh pastas, and harder still for filled pastas, like ravioli and tortellini.
In the case of pasta, the trick is to get the pasta to stretch around the filling. In traditional fresh pastas, the stretch comes from gluten in the wheat flour.
The company is looking to patent its new method for manufacturing gluten-free filled pastas, such as ravioli, without any breaking or tearing during production. For this patent, the company chose a blend of rice flour and cornstarch had been chosen for a bland flavor profile, and relies on 2-3% xanthan gum for structure and flexibility. The process works best by including at least 10% fresh egg by by mass.
The process General Mills hopes to patent delivers an improved process for a commercially manufacturable gluten-free or reduced-gluten pasta.
Other parts of the General Mills process include: cold extruding the mixture into sheets of around 1-1.2mm thickness at 34 C or less; adding the filling; and shaping the pasta around it prior to cooling and packing. Early trials showed 32 C was best for plain pasta and 25.7 C for filled pasta. In all cases, the extruder pressure had to be 75 Bar or more.
General Mills said its invention would help address the increased demand for variety in fresh, gluten-free and reduced-gluten products.
Source: foodnavigator-usa.com