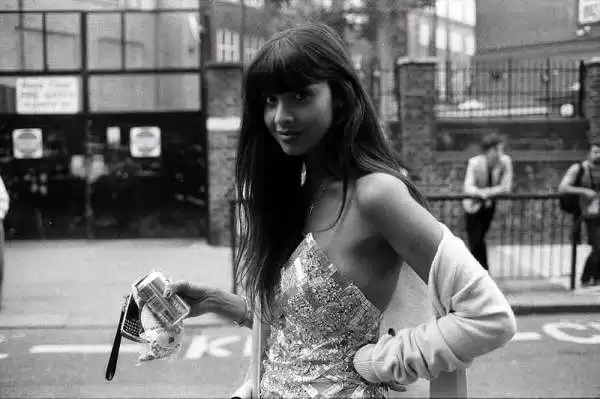 Caption: Image: CC BY-SA 2.0--Stwalkerster
Celiac.com 09/20/2019 - Our latest piece of celebrity gluten-free news is a riff on that old saw: No good deed goes unpunished.
Good Place actress Jameela Jamil has celiac disease. Since she also has trouble digesting dairy, she avoids that as well. So, it's gluten-free and dairy-free food only for Ms. Jamil, thank you very much. The fact that Jamil is wheat and dairy-free remained entirely uncontroversial, until she decided to kindly share the recipe for her very favorite gluten-free berry crumble via Instagram. Jamil had originally given the recipe to UK's Stylist magazine. Follow Jamil, and read the post on Instagram.
---
Celiac.com Sponsor (A12):


---
---
Celiac.com Sponsor (A12-m):


---
In the post, Jamil wrote that the crumble was "gluten free and dairy free with vegan vanilla ice cream [and] makes for a delicious desert [sic]. Yummmmm."

You'd think that would be the end of it, except for praise and thanks from grateful gluten-free eaters, but no. Never content with allowing nice things to happen on the internet, the trolls arrived in force to accuse Jamil of promoting "diet culture." By touting the gluten-free, dairy-free status of her crumble, Jamil was advocating that diet as a lifestyle, cried the trolls.

Fortunately, Jamil knew exactly how to dispatch the troll brigades, and she quickly set them straight with the facts.

"UMMMM some of you think this is promoting diet culture?! guys I'm coeliac. Have been since I was a kid. South Asians often can't digest dairy very well plus it's more environmentally friendly, which I try to be when I can… So I use substitutions. And don't be fooled that gluten and dairy free = less calories or fat. It doesn't. It just makes it allergen free for people with those allergies. It's MY recipe for me after all."

She turned everything around with a laugh. "AS IF I would promote any diet. You guys make me laugh sometimes!" We hope she was nibbling at her delish dessert as she handled the situation like a boss.

May the force of the celiac nation be with you Ms. Jamil!

Get Jamil's troll-crushing recipe for gluten-free berry crumble at Stylist.co.uk