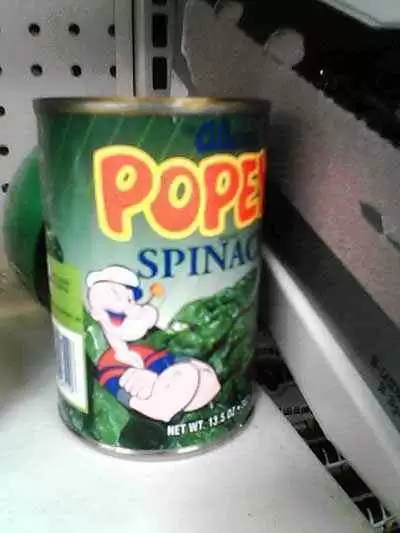 Caption: Photo: CC--Lance Fisher
Celiac.com 06/07/2016 - The world of nutrition is currently obsessed with "super foods". Super foods are loosely defined as foods that are extremely high in nutrients – particularly antioxidants and vitamins – and which everyone is heartily advised to add to their diet.
The problem with this approach is that, while focused firmly on nutrients, we are ignoring anti-nutrients! According to Wikipedia, an anti-nutrient is a compound in food that interferes with your absorption of other nutrients from a food. Most foods have varying amounts of anti-nutrients, toxins and other problematic compounds. A truly healthy diet will include weighing the good against the bad, while maintaining as much variety as possible. Once we have a clearer picture of how a food helps to support our nutrition, we can then decide how to include it in our diet and in what amount.
---
Celiac.com Sponsor (A12):


---
---
Celiac.com Sponsor (A12-m):


---
Obviously, certain health conditions mean that certain foods are no longer healthful. For those with celiac disease, this means that grains with gluten in them are damaging to their health. It really doesn't matter how healthy wheat bran is for some – for celiacs, wheat bran is harmful. For those with allergies, you have a similar issue. Foods that may be healthy for some may not be for others.

Another issue with food and health can be related to anti-nutrients. For instance, in the vegetarian world, we now hear more about phytate – often found in legumes – and how to reduce it in a plant-based diet. Salicylate is another anti-nutrient found in plant foods, and more people are finding that they need to consider this when choosing foods.

Plants may also contain toxins, which are totally natural to the plant, but not good for you. Wikipedia indicates that a toxin is a substance that is directly poisonous, and capable of causing disease. For instance, some foods may contain naturally occurring cyanide compounds, or even arsenic in various forms. While we may not get enough to cause immediate problems, we certainly don't want to consume a lot of these toxins!

Oxalate is another toxin present in many otherwise healthy foods. Oxalate poses many challenges for human health. It's a free radical. It promotes inflammation in your body. Because of its biochemistry, oxalate can be stored throughout your body, and can be particularly concentrated at the sites of previous injury, inflammation or surgery. Fundamentally, oxalate can be stored in tissues wherever the cells have taken it up. As a result, if you are someone who is absorbing too much oxalate from your diet, you can be contributing substantial stress to your body.

Reducing the amount of oxalate in your diet cannot hurt you – you are reducing a totally non-nutritive substance for which the human body has no need and which contributes directly to health issues.

However, reducing too many food types or nutrients in your diet can have negative impacts. The greater the variety in your diet, the better the chance that you are getting all your needed nutrients. The good news is that you can have a nutritious, high variety diet, and retain "super foods" in your diet which are high nutrition, gluten-free and low oxalate.
Get Your Fiber
The preponderance of processed foods in our diets can often leave us with hardly any fiber in our diet! Many gluten-free options are very low in fiber, and this can affect gut health. Fiber is not a direct nutrient for us per se – but it is a needed component that contributes to better gut flora and better health overall.
Insoluble fiber adds bulk to the stool and promotes regularity. Most of us are not getting enough of this fiber, and as a result, can develop poor motility and constipation.
Given that many whole grains are not good alternatives for those on a gluten-free diet, and the bran of many grains are actually high in oxalate, how can we get more healthy insoluble fiber? The good news is that one nutritional powerhouse is not only full of healthy insoluble fiber – it's also a plant source of Omega 3's. So a great solution to lack of insoluble fiber is flax seeds.
Flax seeds can be eaten whole – but to really get the best benefits from this super food, it's best to grind your flax. Keep whole flax seeds in the freezer to preserve their freshness, and don't grind until just before using them. The recommended daily serving (which will also provide some soluble fiber) is two tablespoons.
According to the Mayo Clinic, the right fiber goes much further than just regularity. If you increase soluble fiber, it can help reduce both blood sugar and cholesterol. Soluble fiber creates a gel-like material in the gut, and some research indicates that it may help to feed our gut bacteria.
The benefits of soluble fiber are well known when it comes to cholesterol. The recommended food to get more soluble fiber is oats. However, whole oats are high in oxalate, and the oat bran has confusing test data.
The solution? Psyllium! Pysllium is the medicinal ingredient in the popular product, Metamucil. Psyllium contains both soluble and insoluble fiber – and research on it shows that it can help to reduce cholesterol as well as normalize blood sugar. You can add it to baked products (but adjust the liquids), or sprinkle on foods. It's virtually tasteless – although you might find it does add some thickness or texture to liquids or foods.
Fruits and vegetables are also good sources of both soluble and insoluble fiber and many are lower oxalate. Cabbages, lettuces, onions, cucumbers (with the skin) red bell peppers, orange, mango and grapes are all good low oxalate sources of fiber in your diet.
Fruits
There is no shortage of healthy options in fresh fruits that are also low oxalate, but the blueberry holds a special place among even the healthiest fruits.
Research shows that blueberries are one of the most antioxidant rich foods available, and are included in most lists of super foods. Blueberries are one of the highest rated foods on the ORAC scale. The ORAC scale was developed by researchers at Tufts University, and is the measure of Oxygen Radical Absorbance Capacity (hence the abbreviation ORAC). What this really means for you is that the higher something ranks on the ORAC scale, the more antioxidants you are getting.
Blueberries are stars on this scale, with an ORAC value of 4,669 per 100 grams, according to Superfoodly.com. Wild blueberries rank higher than cultivated ones – but you can't go wrong with any blueberry.
Another fruit that ranks very high in ORAC is the lowly cranberry. While very tart (and difficult to eat raw), cranberries are second only to blueberries in antioxidant levels. To reduce the acidity of the fruit, and make them more palatable, cook with water and some honey. Cranberries are very easy to cook and make a lovely side dish for fattier meats like lamb. They aren't just for turkey anymore! Consuming these tangy fruits also help to contribute to bladder health.
For nutrition on the go, turn to golden seedless raisins. While dark raisins are tasty treats, the golden seedless variety is both lower in oxalate and higher in antioxidants. In fact, golden seedless raisins actually have a higher ORAC score than fresh blueberries! Combine that with convenience and portability, and you have an easy way to get more antioxidants in your day. Raisins also make a great treat for kids, because of their sweetness.
Is the apple a super food? Yes it is! Easy to purchase and pack for lunch, this popular fruit is full of quercetin, which protects cells from damage and is often recommended for those with allergies. Not only is it full of healthy antioxidants, it also has twice the fiber of other commonly eaten fruits, including peaches, grapes and grapefruit, according to the site EverydayHealth.com.
Veggies
When looking at veggies, many of the foods that are considered most healthy are also very high in oxalate. Everyone talks today about how healthy the sweet potato is for us: but did you know that a ½ cup of sweet potato can have over 90 mg of oxalate in it? For people trying to eat a low oxalate diet, a single serving would be more oxalate than they should consume in a whole day!
However, while avoiding high oxalate foods, you do need to eat color and variety to get your needed nutrition. If you want a lower carbohydrate, orange veggie – consider the kabocha squash. Not only does this lower carb, low oxalate veggie work as a substitute for many recipes that require sweet potato, it also has a very good nutrient profile. Self Nutrition Data lists Vitamin A and Vitamin C as well as a good serving of Folate, in addition to good amounts of calcium, magnesium, phosphorus and potassium.
Of course, you want other colors in your veggies as well – and green leafy veggies are particularly known for their nutrition. While spinach would be a bad choice because of extremely high oxalate, you have lots of other greens to choose from. Focus on lower oxalate varieties of kale, including purple kale. The website, The World's Healthiest Foods, lists kale as a food that can lower cholesterol (if steamed) as well as lower your risk of cancer. Of course, kale is part of the cruciferous vegetable family, and these foods have many anti-cancer benefits. Kale is an excellent source of Vitamin K (your blood clotting factor), as well as vitamin A, vitamin C, manganese, copper, B6 and others.
Don't forget your other brassicas while you are focusing on kale! The cruciferous veggies also support our bodies natural detox processes, which is very valuable in today's world where we are exposed to many environmental toxins. Broccoli is another low oxalate brassica that is good for you, whether you are eating the mature broccoli heads, or feasting on broccoli sprouts. Note that broccoli sprouts do have an edge over their more mature cousins – they might just taste better, and given that they can be added to a sandwich for some satisfying crunch, might be easier to work into your daily diet. Research gives the sprouts a further edge in cancer risk reduction and some research indicates they may actually help to prevent stomach cancer.
Another excellent leafy green is the lowly turnip green. Turnip greens are very high in calcium, and are even lower in oxalate than kale. A cup of cooked turnip greens will also get you more than 100% of the RDA for vitamin K. In addition, you'll get vitamin A, vitamin C, folate, copper, manganese, calcium, and vitamin E. Each serving will give you 15% of your daily requirement for B6.
When thinking of deep red veggies, go for red cabbage. This versatile veggie is very low in oxalate, and that lovely red color means that it has even more protective phytonutrients, according to World's Healthiest Foods, than its green sibling! One serving of red cabbage delivers more than four times the polyphenols of green cabbage.
Fats and Oils
You can't read on super food nutrition anywhere and not run into the avocado. A great source of healthy monounsaturated fat, the avocado has also been linked to reduced risk of cancer, as well as lowered risk of heart disease and diabetes. While we think of avocados as a fatty food, they are actually a good source of fiber, with 11 to 17 grams of fiber per fruit! You'll also get a dose of lutein, an antioxidant recommended for eye health.
Web MD says that lutein is a potent antioxidant, which is found in high concentrations in the eye. The combination of lutein and zeaxanthin (another antixodant) help to protect your eyes from damaging, high energy light. Some research indicates that a diet high in lutein and zeaxanthin may reduce the risk of cataracts by as much as 50%.
Coconut oil is another excellent fat that can benefit our bodies in a host of ways. Doctor Oz lists a number of benefits, including supporting thyroid health and blood sugar control. This may be related to the form of saturated fat that is found in coconut oil, called lauric acid. Lauric acid is a medium-chain triglyceride. This kind of fat actually boosts immune system, and has antibiotic, antiviral and antifungal properties. It may also be a tool in your weight loss arsenal. A study in 2009 actually showed the eating 2 Tablespoons of coconut oil daily, allowed subjects to lose belly fat more effectively. Even better news for those who are following a low oxalate diet: both avocado oil and coconut oil have zero oxalate!
Nuts, Seeds and Legumes
Unfortunately, many foods in this category are high oxalate – and so won't qualify for our super food list. While you might be able to have a couple of walnut halves, or a similar amount of pecans, nuts are generally just to high to have in servings of more than 3-5 pieces.
However, if you are looking for a superfood in this category, look no further than pumpkin seeds! Pumpkin seeds are an excellent source of vegetable-based protein, and are another portable food. A great snack for the health conscious can be made with raisins and pumpkin seeds – both are low oxalate, and the protein of the pumpkin seeds will help you to stay fuller longer. According to LiveStrong.com, a handful of pumpkin seeds will give you over 8 grams of protein. At the same time, pumpkin seeds are low in sugar, and provide you with fiber as part of the carbohydrate in them. You will also get vitamin A, vitamin B, vitamin K, thiamine, riboflavin, niacin, magnesium, calcium, iron, manganese, zinc, potassium, copper and phosphorus in that small and compact package!
If pumpkin seeds don't qualify as a super food, it's hard to say what would!
When it comes to legumes, many are stars for protein, but one of the best options is the red lentil. Lentils in general are easier to prepare than other types of legumes – they do not require the soaking and preparation time that many legumes do. At the same time, they are powerhouses of nutrition, with molybdenum, folate, fiber, copper, phosphorus and manganese all at more than 50% of your daily requirement. One cup of cooked lentils will also give you 36 % of your daily need for protein, according to World's Healthiest Foods. And all this nutrition is provided in a food that is virtually fat free and low in calories. You cannot go wrong!
As an added benefit, some studies have found that eating high fiber foods like red lentils may reduce the risk of heart disease. The more fiber, the lower the risk of heart disease.
Fish
We are always hearing that we need to have more fish in our diets. It seems sometimes that not a week goes by when we are not hearing that we should be eating less meat, and getting less fat – with the suggestion that more fish would benefit us.
When you think of the super food of fish, you have to think of salmon. Salmon is a fatty fish, and it's one of the best sources available for omega-3 fatty acids. In today's world of processed foods, omega-3's are one of the nutrients that we don't get enough of.
Your best bet with salmon is to get wild-caught fish. Farmed salmon do not have the same nutrient profile, which may be related to the kind of food they are fed. Along with the decreased nutrient profile, studies have indicated that farmed salmon contains significantly higher concentrations of a number of contaminants (including PCBs, dieldrins, toxaphenes, dioxins and chlorinated pesticides) than wild caught salmon.
World's Healthiest Foods states that a 4 ounce piece of Coho salmon will get you 55% of your daily requirements for omega-3 fats. On top of that, you'll get more than 50% of your daily requirement for vitamin B12, vitamin D, selenium, vitamin B3, protein and phosphorus, as well as other B vitamins and minerals.
Omega-3 fatty acids will provide you a host of benefits, from reduction of inflammation, to better brain function. Omega-3 fat is also heart healthy, and can contribute to a reduced risk of heart attack, stroke, high blood pressure and other cardiovascular disease. Research indicates that eating salmon at least 2 to 3 times a week will give you the best benefits.
Spice it up
Spices can be a bit tricky, if you want to keep your oxalate low. Many spices – while tasty – are very high in oxalate!
A great example of this is turmeric. A staple in most curry recipes, turmeric is extremely high oxalate – so while it has a reputation as a super food, it would not be a good choice if you are trying to keep your oxalate low.
So what is your option if you love to eat foods spiced with turmeric? Well, the easiest approach is to stock your spice rack with a health food store supplement; cook with curcumin extract! While it may seem a bit odd at first, if you buy a curcumin extract (which is the extract from turmeric), you can get the flavor and leave the oxalate behind.
While not technically a "food" when you cook with a supplement, you certainly get all the benefits of the original super food – turmeric – without the downside of oxalate.
Another highly beneficial spice is cinnamon. Research clearly shows how helpful cinnamon is for managing blood sugar. However, ground cinnamon is an extremely high oxalate spice. So how can you get the flavor you want, while avoiding the oxalate?
One solution is to cook with a cinnamon extract that you buy at the health food store! One brand known to be low oxalate is Doctor's Best. It is a dry extract in capsules – simply break open the capsules and use the contents in your dish. This allows you to get all the therapeutic benefits of the extract as well as the taste.
You can also cook with essential oils and culinary oils – but use them carefully. Essential oils can be very strong and can irritate the tissues of the mouth and digestive tract. One drop of good quality essential cinnamon oil will replace as much as 1 tablespoon of ground cinnamon. Culinary oils are made for flavoring – follow the directions on the product that you buy. Either way, you will get the taste – and you avoid the oxalate.
Enjoying Your Food!
As with anyone who wants to eat a healthy diet full of super foods, the trick is to focus on the best nutrition, and get lots of variety. While some foods may not be as "super" as others, if you are making colorful meals, with healthful selections from across the spectrum, you'll be doing your body a favor with flavor!
Where Does Oxalate Go?
Once you have eaten oxalate, you have to excrete it through urine, feces or sweat. But what happens if you don't? A study on rats was able to trace where in the body a dose of oxalate remained. The scientists used a special carbon molecule – carbon 14 – in the oxalate they gave to the rats, so that they could find the oxalate wherever it went in the body.
What they found is that if the oxalate was not excreted from the body, it was stored everywhere:
68% in the bones
9% in the spleen
8% in the adrenal glands
3% in the kidneys
3% in the liver
8% in the rest of the body
These results are in direct opposition to conventional medical thinking, that oxalate only affects the kidneys. It clearly shows us that the whole body – but particularly the bones, key glands and detoxification organs – are all affected. This is another good reason to reduce the amount of oxalate in your diet!
Is Spinach Really That Bad For You?
A relatively simple study in the late 1930's looked at rats fed a diet that was only adequate in calcium. To bring the levels of calcium up, the rats were given spinach, equaling about 8% of their diet. While most of us think of spinach in terms of iron, it is also relatively high in calcium. The results of the study were shocking:
47. A high percentage of rats died between the age of 21 days and 90 days
48. The bones of the rats were extremely low in calcium (despite adding it to the diet through the spinach)
49. Tooth structure was poor and dentine of the teeth poorly calcified
50. For these animals, reproduction was impossible.
Researchers concluded that not only did spinach not supply the needed calcium (because of the oxalate), but the spinach also rendered the calcium from other foods unavailable. What we know now is that oxalate is a mineral chelator – and rather than delivering minerals, it was robbing them from the rats.
Getting Your Vitamin K
Vitamin K is a very important nutrient. Life Extension indicates that new research from 2014 links vitamin K to longevity. In fact, the highest intakes of vitamin K reduced the likelihood of dying from any cause by 36%! So, you definitely want to get vitamin K in your diet.
However, most of us think that we need to eat high oxalate greens – like spinach – in order to get good amounts of vitamin K. Nothing could be further from the truth! Kale, collards and turnip greens are all higher in vitamin K than spinach, and they have a fraction of the oxalate.