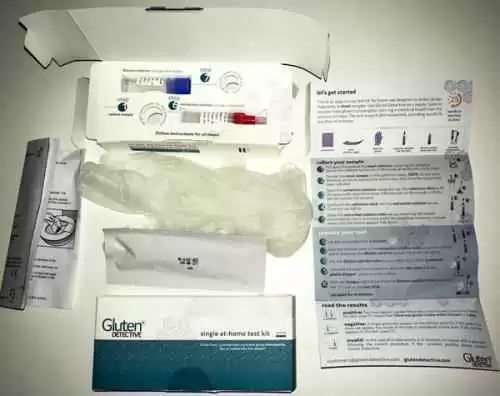 Caption: The contents of the kit Gluten Detective home test kit.
Did you ever wonder if your gluten-free diet is really 100% gluten-free? Did you know that you're supposed to be getting regular checkups with your doctor to verify that?
The Gluten Detective's stool and urine at-home test kits are designed to verify that your diet is gluten-free, at least during the three or more days prior to running a test.
---
Celiac.com Sponsor (A12):


---
Both the stool and urine tests do the same thing, and both kits make each type of test very easy to carry out. The kits come complete with everything you need, including gloves, collection instruments, extraction solution, dilution solution, test strip, etc.

There are many reasons to regularly use these kits. For example, if you eat out regularly at restaurants or at friends' houses you could use them to verify that your food has been safe. Alternatively if you got sick after a meal you could also use a test kit to see if gluten was indeed the culprit, instead of not knowing for sure what made you feel sick. Perhaps you need to ditch that favorite restaurant?

Ultimately these kits are designed to help you make better choices with your gluten-free diet, and learn how to stay safe. They are an inexpensive way to regularly monitor your gluten-free dietary compliance.

For more info visit their site.