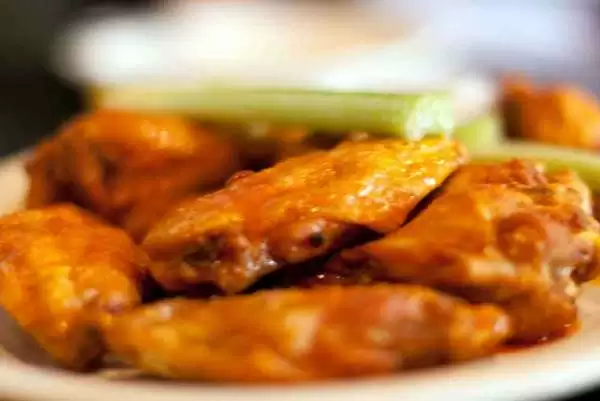 Caption: Who doesn't love the flavor of Buffalo wings?! Image: CC BY 2.0--yurilong
Celiac.com 03/07/2020 - If you're looking for a spring-tastic off-the-wall, sure-to-please salad, then this zesty, zingy buffalo chicken salad might be just the thing. This salad is a blend of everything spring. A celebration of lettuce, spinach, cabbage, celery and cool cucumber dancing with bacon, blue cheese and zingy buffalo chicken.
Ingredients:
---
Celiac.com Sponsor (A12):


---
Buffalo Sauce
Ingredients
16 tablespoons (1 cup or 8 ounces) unsalted butter
2 teaspoons garlic powder
1⅓ cups hot sauce, like Frank's or Crystal
Chicken
1½ pounds boneless skinless chicken breasts
1 cup Gluten-free buffalo wing sauce
2 tablespoon honey
Juice of 2 limes 
1 teaspoon garlic powder
½ teaspoon onion powder 
Kosher salt
Freshly ground black pepper
1 tbsp. extra-virgin olive oil
Dressing
½ cup mayonnaise
½ cup sour cream
½ cup buttermilk
2 cloves garlic, minced
¼ cup freshly chopped parsley
2 tablespoons freshly chopped dill
2 tablespoons freshly chopped chives
1½ teaspoon kosher salt
½ teaspoon freshly ground black pepper
½ teaspoon onion powder
Pinch of cayenne pepper
Salad
4 cups chopped romaine lettuce
2 cups baby spinach
1 cup chopped purple cabbage
1 cup of chopped Fuji apple
2 stalks celery, sliced
1 carrot, shredded
1 Persian cucumber, cut into half moons
½ red onion, thinly sliced 
1 cups halved cherry tomatoes
¾ cups blue cheese crumbles
⅓ cup crispy bacon, chopped
 
Directions
Make the Buffalo Sauce
Here's a video link to this great, super simple gluten-free Buffalo wing sauce from Inspired Taste.
Melt butter in a medium pan over medium-low heat until melted. Remove pan from the heat to prevent the sauce from breaking.
Whisk in the garlic powder and hot sauce until a cohesive sauce forms, about 1 minute.
Make Chicken
In a large bowl, combine buffalo sauce, honey, lime juice, garlic powder, and onion powder. Season with salt and pepper. 
Reserve ⅓ cup of the marinade. 
Add chicken to remaining marinade and toss until well-coated. 
Marinate 30 minutes at room temperature, or cover and refrigerate for up to 2 hours. 
When it's time to cook, heat oil in a large skillet over medium heat. 
Remove chicken from marinade, letting as much marinade drip off as possible, and add to skillet. 
Cook until golden, 6 minutes, then flip and brush cooked chicken with reserved marinade. 
Continue cooking another 6 to 8 minutes, until the chicken is no longer pink inside, and juices run clean when poked with a fork. 
At this point, use the marinade to generously coat the chicken as it cooks. Turn chicken as needed and coat thoroughly.
Remove cooked chicken to a plate or cutting board and let rest 5 minutes. When cool enough to handle, cut chicken into bite-sized strips.
Meanwhile, make dressing: In a medium bowl, whisk together mayonnaise, sour cream, and buttermilk.
Add remaining ingredients and stir until combined. 
Refrigerate until ready to use. 
Make Salad
In a large bowl, toss together romaine, spinach, celery, cabbage, carrots, cucumber, apple, red onion, tomatoes, bacon, and crumbled blue cheese. 
Top with chicken and drizzle with dressing just before serving. Or, serve dressing on the side, as desired.